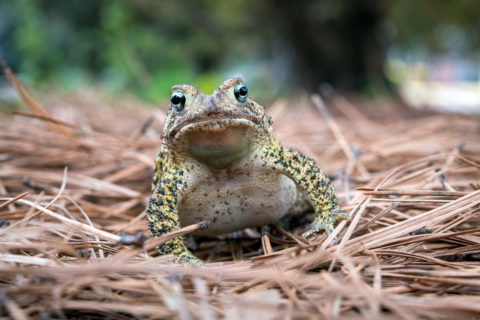 Since 2007, the Houston Zoo has been working hard to make sure the Houston toad doesn't disappear from Texas forever. About 600 toads live permanently at the Houston Zoo as part of our Houston Toad Recovery Program. These toads have a very important job – make more Houston toads.
This year to date, we have released approximately 1,157,800 eggs, 876 tadpoles and 1,688 recent emergent toadlets in Bastrop County. While releasing over a million eggs is an amazing accomplishment, I must also share that we had our most successful captive assurance pairings since the program started. The program produced 21 captive assurance strands during the 2022 breeding season. These pairs are the most genetically valuable, and instead of releasing all these eggs into the wild, we hold back approximately 200 eggs from each strand. We do this to maintain genetic diversity as our breeding colony gets older. Those eggs will develop, hatch, emerge and we will care for them as tadpoles, emergent, and juvenile toadlets until they get accessioned individually into the program.
Now a little bit of background on me… My main role here at the Zoo is to be the resident Houston toads records keeper. I ensure all records are up to date and accurate. I also help give tours and presentations about our program to various organizations and assist students who reach out to the Zoo with upcoming projects involving the Houston toads. I initially started out as a volunteer several years ago before joining the team officially in 2014.
One exciting and recent example of helping students learn about Houston toads was with Juliet Nguyen, a conservation champion from Lanier Middle School.
I initially met Juliet last December via Zoom, after our Herpetology Curator Stan, connected us. Juliet was working on an International Baccalaureate Community Project. This project called for her to research endangered animals that she could feature and identify how to protect them in the wild. After learning about the Zoo's Houston Toad Recovery Program, she was hooked and decided to feature this Texas native for her project. It was an amazing feeling to make an impact on her with our Houston toad conservation efforts.
It is obvious that Juliet has always been enamored with amphibians! Her favorite animal is the axolotl, specifically because of its adaptability and range of color.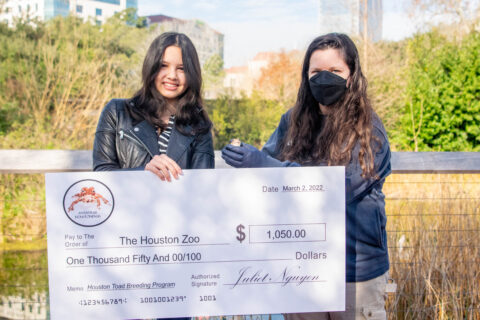 Part of Juliet's project called for her to create a slideshow and fundraising page online. It featured a great amount of her research and even included an interview with one of our toad conservation partners, Dr. Michael Forstner, from Texas State University. The best part is that her fundraising efforts were so successful and that she visited the Zoo earlier this year to present us with a check for over $1,000 to donate to our recovery program. While onsite, she got a quick tour of the Zoo's behind-the-scenes program. I have no doubt that Juliet will be involved in conservation research someday. Thank you for your support, Juliet!