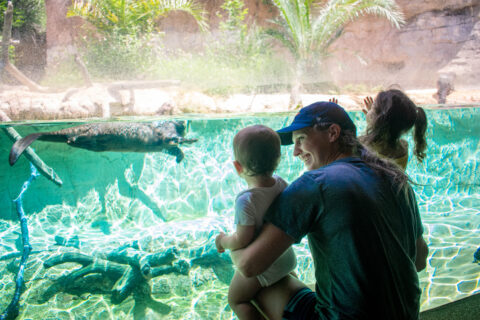 Springtime is almost here! March and April tickets are now available to reserve online, which means it's time to make your Spring Break plans. We're staying open an hour later from March 11-19! Our daytime hours will be 9:00 a.m. to 6:00 p.m., with last entry at 5:00 p.m. Check out our pro-tips below to help plan your next Zoo visit.
1. Buy tickets early for the best price
With Flex Pricing, the earlier you buy your tickets the better the price. It gives you more options to plan a Zoo visit that best fits your budget and schedule. Spring Break is a popular time at the Zoo and tickets will sell out quickly – reserve your Spring Break tickets today! 
Members, you don't need a reservation to visit the Zoo. You can visit anytime you like. As a Zoo member, you can get extra tickets not covered by your membership at a discounted price. Log in to the Member Portal to purchase extra tickets.
Not a member? Become a member today to enjoy this benefit and other perks.
2. Arrive early and plan ahead with your parking options
Traffic and parking can be busier than usual during Spring Break around the Zoo and Hermann Park. To help you avoid increased traffic, allow for extra time and check out our recommended parking options, including carpooling, rideshare and the METRORail. To get to the Houston Zoo from the METRORail, you'll need to ride the Red Line, exit Hermann Park/Rice U, and walk through the Japanese Gardens to reach the Zoo's main entrance.
3. Enhance your Zoo visit
There's something for everyone at the Houston Zoo! Take a ride on our Wildlife Carousel, feed our Masai giraffes a leafy treat daily at 11 a.m. and 2 p.m., or book a unique Animal Encounter experience, like our new giant anteater encounter.
4. Pack your own snacks or order food ahead
Multiple food and beverage locations are available throughout the Zoo. Outside food, drink, and coolers are allowed, with the exception of alcohol and glass. Don't forget to bring your reusable water bottle to help save animals in the wild!
Skip the line and order your food online. You can order your food online for quick and easy pick-up at Cypress Circle Café.
5. Save a screenshot of the Zoo map
Before exploring the Zoo, be sure to take a screenshot of our Zoo map online. By going digital, you're helping save black bears in the wild. Once inside the Zoo, you can also view our Plan Your Day digital kiosk in the McGovern Front Entry Plaza to view our map in person, stay in the know on the daily Meet the Keeper Talks presented by Phillips 66, and more.
6. Visit the Zoo Store or shop online
Make sure to stop by our Zoo Store during your next Zoo visit! We've got you covered with your favorite Houston Zoo swag, reusable bags, toys for toddlers, & more. Or buy your favorite Zoo Store items online.
7. Stay in the know and follow us on social media
Check out adorable animal content on Facebook, Instagram, Twitter, and TikTok to stay updated on the latest news from the Houston Zoo.
---
Coming in April: Gal
á

pagos Islands Opens on April 7

The wait is almost over! We're thrilled to open the first major exhibit of its kind in the world, our exhibit will showcase the remarkable wildlife of the legendary island chain and immerse guests in an environment evoking the archipelago's unique landscapes and oceanic habitats.