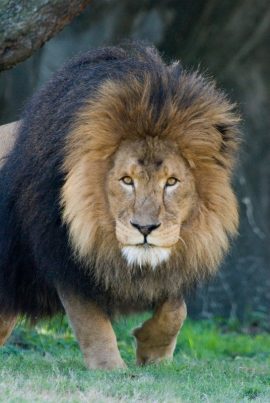 Jonathan, the Houston Zoo's 18-year-old male lion died early this morning after veterinarians discovered he had a serious blood clotting issue and low white blood cell count – findings that are not uncommon in geriatric patients, who often develop the more complex medical conditions. After discovering he was starting to feel unwell, the aging lion was given a complete examination. Jonathan spent last night in the zoo's animal hospital but, despite the veterinary team's best treatment efforts, he died overnight.
Jonathan spent the majority of his life at the Houston Zoo after being rescued from a private owner when he was just a few years old. Jonathan's regal mane was identifiable to all who visited him at the Houston Zoo, and since his arrival in 2006, has been a guest and keeper favorite. Guests could usually find the elderly lion lounging in the sun, surrounded by his pride of three females.
"Jonathan's impact on our keepers and guests will not be forgotten," said Dr. Adrian Fowler, Vice President of Animal Operations for the Houston Zoo. "Our team of keepers who have spent more than a decade caring and bonding with this incredible animal are grieving this loss, and we support them through this sad time."
Quality care and continuous advances in veterinary medicine extends animals' lives longer than ever, with most felines in human care living well beyond previous generations. Because of this, all cats, including domestic house cats and lions, often spend a significant phase of their lives as older animals, and are at a higher risk for geriatric complications
Jonathan, and his surviving pride, are ambassadors for their wild counterparts in Africa and serve to educate guests about the work being done to help save this vulnerable species.  Scientists estimate there are less than 30,000 lions left in Africa, half the number of 20 years ago, and the biggest reasons for their decline are conflict with people and loss of habitat and prey due to human population growth. The Houston Zoo is proud to partner with several organizations in Africa who are dedicated to saving this amazing species.