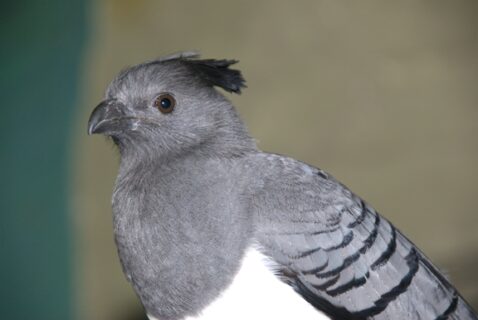 The Houston Zoo is saddened to announce the recent passing of the Bird department's white-bellied go-away-bird "Mr. McBouncy-Pants," or "Bouncy" for short.
Bouncy hatched on December 29, 1998 at Houston Zoo and was hand-reared by keepers. His close association with people also meant he was able to help keepers provide positive guest experiences as an ambassador animal. He spent most of his life in air-conditioned luxury living inside the former Tropical Bird House, greeting guests from his enclosure when they first walked into the building. Bouncy helped keepers to educate guests about birds, the Zoo, and what it takes to be care for animals. In his later years, Bouncy spent his time retired from the public, getting all the grapes he desired!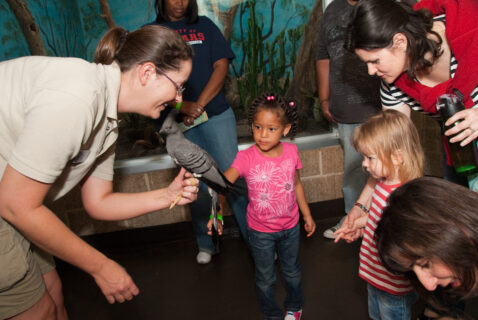 Bouncy had a history of arthritis for a number years but had been responding well to medication. This winter, keepers began noticing decreased mobility and changes in his behavior. With this in mind, bird keepers and the veterinary staff switched from quarterly to monthly welfare assessments to more closely monitor his health in his advanced age. Bird keepers and vet clinic staff did all they could to ensure the best quality of life for Bouncy, but it became clear that they could not do any more for him than they already had. The difficult decision of euthanasia was made to ensure Bouncy did not suffer any further effects of his worsening condition.

Mr. McBouncy-Pants had been at Houston Zoo for nearly 25 years and had been around longer than most staff! We think it is safe to say that Bouncy was a favorite bird of most bird keepers, if not all, who have gone through Houston Zoo's Bird Department during his time with us. He was a bright spot in keeper's days when he would fly over to greet them and try his hardest to feed them his diet for the day. 
White-bellied go-away-birds are a species of turaco that are native to the acacia steppes and savannas of eastern Africa. They are named for the distinct call that sounds like they are telling others to "go away." White-bellied go-away-birds are of least concern in the wild.