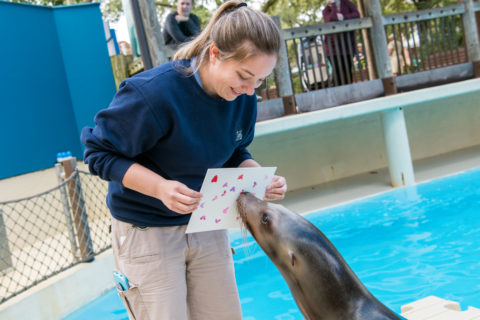 Animal enrichment plays a huge role around the Zoo. In order to keep the animals physically and mentally stimulated, zookeepers provide them with a variety of enrichment – cognitive, behavioral, food, environmental, sensory – every day. In fact, Zoo guests can even see this enrichment each time they visit the Houston Zoo.
Daily Meet the Keeper Talks, presented by Phillips 66, allow zookeepers to better inform guests about the animals and how we are protecting their counterparts in the wild. These chats are the best opportunities to see animal enrichment in action. During the 11:00 a.m. sea lion keeper talk, guests see keepers providing enrichment, which can include husbandry training or creating unique animal art. The sea lion team is currently working towards perfecting a voluntary husbandry training technique that makes medical procedures, such as blood draws by the veterinary team, positive for the animals.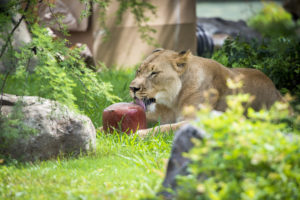 Guests may also notice various enrichment items – barrels, boomer balls, boxes, etc. –  in the animal habitats. These serve as a sort of toy that spark the animals' natural instincts. These can be as simple as a ball, or as intricate as hand crafted items made specifically for the animals. Occasionally, guests may witness the carnivore team release a meaty snack on a zip line through the lion habitat. These majestic animals ditch their typically restful manner in order to grab a piece of the tasty treat. This is a way for them to use their hunting behavior that would come naturally in the wild. Lions also enjoy participating in painting enrichment activities, using non-toxic paint to create unique masterpieces with their paw prints and tail swipes.
Behind the Scenes
While guests can see animal enrichment all over the Zoo, some animal enrichment only occurs behind the scenes. For example, the carnivore team takes the cheetahs on walks and runs to keep them active. Every week, before the Zoo opens, keepers walk the cheetahs around the grounds on a leash.  Sounds easy, like walking a dog, right? Wrong! These keepers take part in extensive training to ensure the safety of both the animal and staff. The cheetah walk is one of the many animal encounters the Zoo offers its guest. Learn more about our cheetah walks. In addition to these walks, the cheetahs go on runs in an open field, where they are provided with a lure to chase at top speeds. As the fastest land animal in the world, cheetahs have a need for speed, so much of their enrichment is physical activity.
Behind the scenes in Wortham World of Primates, six playful orangutans enjoy a variety of manipulative enrichment, which is any enrichment item that can be manipulated in some way via an animal's hands, feet, mouth or head. Their favorite enrichment activities also include painting, bubble baths, and "smears," which are various foods that keepers freeze into objects that require the animals to use their fingers to retrieve it. These treats are also used out on exhibit on hot days to cool these primates down. Orangutans are intelligent mammals, so keepers ensure their minds are kept active. In fact, the animals are so smart that their intelligence is like that of a human fifth grader. Like most fifth graders, Cheyenne, the 47-year-old orangutan, enjoys gathering her food around her and watching the movie "Transformers" in her free time. "Some guests will make comments on how bored they look while out on exhibit; I like to remind them that they are incredibly smart, and for them it is sort of like watching television with all the different people around," Primate Zookeeper Tammy Buhrmester said.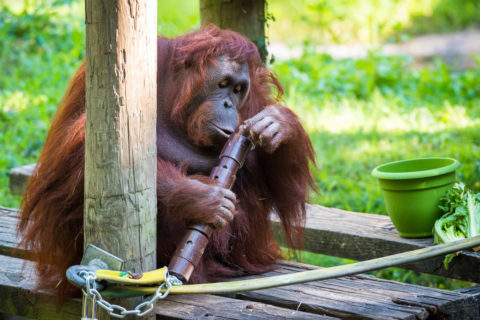 The distribution of enrichment allows the Zoo to maintain the best environment for the animals, while allowing healthy development of the animal. Each type of enrichment planned specifically for the animal and allows them to use their natural behaviors, as well as investigate and explore. "Enrichment brings out natural behaviors and allows the sea lions to investigate and explore their environment more. Sea lions are very curious and naturally playful, so it is important for their welfare that they are given these opportunities," Sea Lion Keeper Amanda Perry said. In most departments, the younger the animals are, the more enrichment they participate in, so keepers adjust accordingly. As a team, Zoo staff ensure the animals grow as happy and healthy as any animal can be, and enrichment plays one of the biggest roles in doing that. This is just a sneak-peek at some of the enrichment our zookeepers provide for our animals on a daily basis.
Join us on Saturday, September 21, for Enrichment Day, which will highlight animal enrichment activities throughout the day and is included with your Zoo membership or general admission ticket. Stay tuned for more details.