Launching the Most Ambitious Fundraising Campaign for Our Centennial Anniversary
In 2022, the Houston Zoo will celebrate its 100th anniversary by completing the most dramatic transformation in its history. Today, the zoo launched its $150 million centennial fundraising campaign and unveiled plans for several new multi-species habitats during an event at the zoo's historic Reflection Pool. During the momentous occasion, Houston Zoo president and CEO Lee Ehmke, Mayor Sylvester Turner, and Houston Zoo campaign co-chairs Cullen Geiselman and Joe Cleary shared the zoo's vision for the next five years, revealed a new visual identity, and announced significant campaign successes. One such success includes a $50 million gift from the John P. McGovern Foundation, the largest gift in the zoo's history. In total, more than $102 million has been secured for the campaign through individual, foundation, and corporate contributions and the zoo's own cash flows.
"We aim to redefine what a zoo can be with beautiful and immersive habitats, compelling guest experiences, and an unyielding commitment to saving wildlife," said Lee Ehmke, Houston Zoo president and CEO. "I invite you to join me on this thrilling journey to build the world-class zoo Houston deserves. Together, we will keep our world wild."
Since privatization in 2002, more than $150 million in community investment has revitalized the Houston Zoo. Today, the zoo is a leading conservation and education organization providing care to thousands of animals. All while remaining a cherished destination for fun, family, and inspiration for all of Houston's diverse communities.
In order to fully connect communities with wildlife to inspire action to save animals in the wild the zoo embarked on a strategic planning process in 2016 that identified eight strategic priorities to guide the future, and the mission, of the Houston Zoo.  One of the priorities recognized that a new zoo required a new logo. The new visual identity for the Houston Zoo was created by local branding agency Principle and symbolizes the connection people share with the world around them, reflects the Houston Zoo's commitment to saving animals in the wild, and will represent the zoo in Houston and around the world.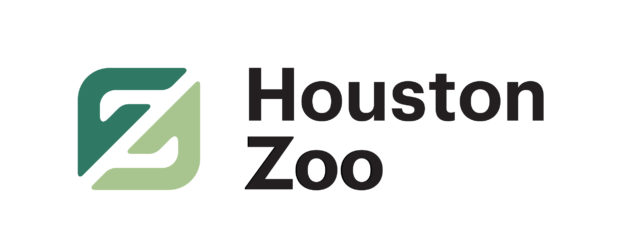 The Houston Zoo's strategic plan brought to life by a new 20-year master plan, which will reconfigure the campus into experiential zones that highlight wildlife and ecosystems found in Texas and around the world. With conservation messaging integrated throughout these zones, guests will leave the zoo inspired to take action to save animals in the wild.
The Keeping Our World Wild: Centennial Campaign will secure $150 million from individuals, foundations, corporate partners, and the Houston Zoo's operational cash flows to complete Phase I of the master plan by 2022. Every year leading to the centennial, an exciting new chapter will open for guests to explore.
Additional Campaign Facts
Nearly half of the Houston Zoo's acreage will be redeveloped by 2022
$5 million from the campaign will be dedicated to conservation projects
Multi-Species Habitats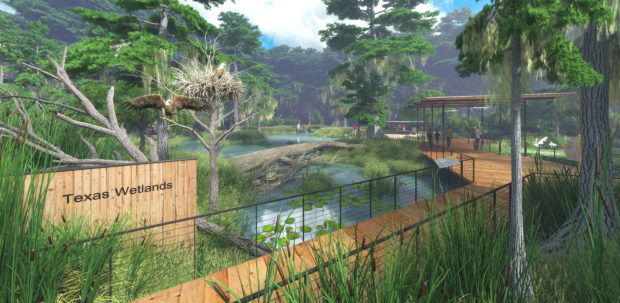 Heart of the Zoo – 2018 – 2019
Celebrating the biodiversity of Texas, enhancing amenities, and setting the stage for a more navigable Houston Zoo.
Cypress Circle CafÉ will be transformed into a signature gathering place (late 2018)
Texas Wetlands habitat featuring alligators, bald eagles, whooping cranes, turtles, and waterfowl (Spring 2019)
Enhanced orangutan and bear habitats
The Texas Wetlands exhibit will engage visitors in the zoo's breeding, monitoring, rehabilitation, and release programs with local species of birds, reptiles, bats, and pollinators; students can connect this exhibit with hands-on, in-the-field conservation work experienced through zoo-led education programs.
---
Pantanal: Trail of the Jaguar – 2020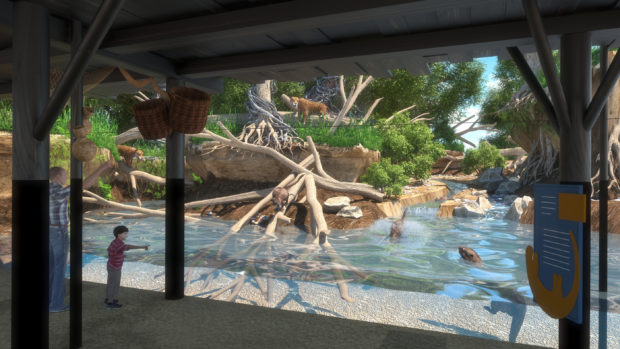 Exploring the legendary tropical wetlands of Brazil – home to South America's greatest concentration of wildlife.
Lush South American wetland with jaguars, monkeys, giant river otters, capybaras, birds, and tapirs
Shaded Animal Encounter Hacienda for informal presentations with ambassador animals and zoo staff
The zoo partners with on-the-ground conservationists in South and Central America to study and protect jaguars, macaws, tapirs, and other Pantanal inhabitants; the exhibit will strengthen the zoo's conservation investment by offering visitors and students a more immersive, engaging experience of this ecosystem.
---
Ancient Relatives Phase I – 2021
Showcasing the zoo's signature, award-winning bird conservation work.
Reimagined Bird Garden with interactive bird feeding opportunities for guests
New Avian Conservation Center will relocate many birds into new, lushly landscaped aviaries, setting the stage for a later expansion of bird, reptile, and amphibian exhibits
New incubation and rearing room that allows for behind-the-scenes experiences
The new facility will directly support the zoo's breeding programs for rare curassows and macaws as well as the signature program to breed and release Attwater's prairie chickens, a local endangered species.
---
Galapagos Islands, North Entry, and Reflections – 2022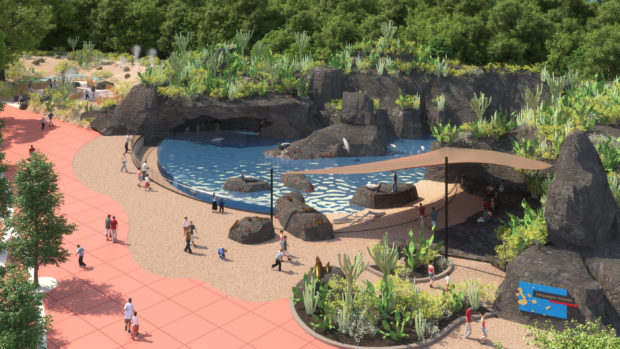 A first-of-its-kind exhibit starring the landscape and wildlife that made history, plus enhancements to the Houston Zoo's main entry.
Unique Galapagos exhibit featuring sea lions, sharks, giant tortoises, and other iconic species
New Arrival Plaza to welcome guests
New Reflections event hall and terrace, as well as a new casual cafÉ, enhance the historic Reflection Pool and garden area
No place better illustrates the wonders of unique species, the delicate balance of ecosystems, or the pressing need for conservation action than the Galapagos. This exhibit will immerse visitors in that sense of place; highlight the zoo's ongoing field work with giant tortoises, birds, and marine animals; and serve as a jumping-off point for educational experiences, including travel.
To learn more about the centennial campaign, visit www.HoustonZoo.org/future.