Zoo News Blog
Join Us for Bear Awareness Day on Saturday March 2nd and Save Texas Black Bears!
This weekend we are celebrating Bear Awareness Day by shining a light on one of our favorite Texas natives – the black bear! On Saturday, March 2nd from 9:00am – 2:00pm you will have the opportunity to see our resident black bears up close and watch them as they enjoy a variety of enrichment items. You'll also have the opportunity to interact with members of our carnivore team and our Texas Black Bear Alliance partners and pick up some cool bear facts all while learning how you can help save bears in the wild!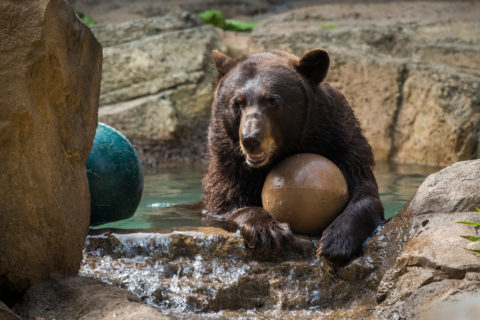 Many years ago, black bears once roamed the state of Texas. Unfortunately, as the lone star state grew in popularity with settlers , the number of black bears began to dwindle. By the beginning of the 20th century, seeing a black bear within state lines was considered extremely rare. Today, at least two subspecies of black bear are making their way back into East Texas due in large part to the growing populations of black bears in the surrounding states of Louisiana, Arkansas, and Oklahoma.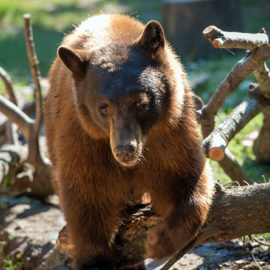 Living outside of the black bears' home range can make it tricky to know what actions you can take to protect this native Texan. Thankfully, small changes to your everyday routine can make a big difference. Bears need trees to live, so by using less paper or recycled-content paper products, fewer trees are cut down meaning you are contributing to saving black bears in the wild. The Zoo helps save black bears by only using toilet paper made from 100% recycled content – an action you can take at home! Every year, 27,000 trees are cut down to make toilet paper—trees that bears need for shelter and food. How much toilet paper does the average household use? Nearly 120 rolls each year! By buying toilet paper made from 100% recycled content, you are preserving bears' forest homes.
Join us this weekend to learn even more about how you can protect this and other bear species in the wild, and remember, every time you visit the Zoo, you're helping to save black bears like our very own Belle and Willow in the wild. See them, Save them – it's as simple as that.
 Members may enter the Zoo at 8:00am to join us for a special Meet the Keeper Talk at 8:30am presented by Philips 66!