We love our Members. Their incredible support allows us to make a difference to animals both locally and all over the world. This month, we're spotlighting a Zoo Member that deserves recognition. We're thrilled to introduce you to January's Featured Member: Laurie Easter

---
We asked the Laurie to share a few words about what being a Zoo Member means to her. Here's what she had to say.
"I have lived in Houston since 1982 and in the 1990's, I often took our daughters to the Houston Zoo when they were young.  As they became teenagers and developed their own interests, we stopped going together as much and they went on to graduate from college and start their careers.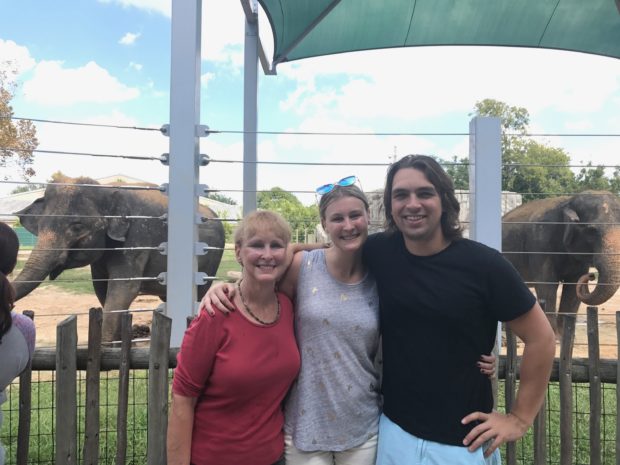 Recently, however, my daughter Jessica Easter and her boyfriend Cameron Loucks inspired me to become a member of the Houston Zoo once again.  They participate in many of the Zoo's events, and also support the Zoo's efforts to protect endangered species and promote education about animals in the wild.  They introduced me to their favorites-primates, big cats, and elephants, although they appreciate all of the animals at the Zoo.  We also plan to make a trip to the Zoo Lights a new family tradition-it is unlike any other holiday experience.
After many conversations about their experiences with the Zoo and the importance of the Zoo's mission, I initially joined mainly to support the Zoo financially.  Then I discovered a totally new way to enjoy the Zoo.  While taking a foreign exchange student to the Zoo, I discovered the Houston Methodist 1-mile walking path marked on the map.  I like to walk for exercise and overall health, but the treadmill can get boring; the mall is nice but indoors as well, and the city streets require close attention to traffic and intersections.  What better way to get exercise and enjoy the outdoors than to go to the Zoo?  I soon bought a membership online and arrived at the Zoo when it opened at 9 a.m.  Walking through the gates, I joined the usual early morning crowd of young moms with babies in strollers, grandparents enjoying the morning with their grandkids, and some school groups excitedly beginning their day.  I then followed the walking path marked on the map, and after leaving the main plaza in front of the gates, I quickly found myself alone with all of the wonderful animals starting their morning routines, along with the occasional Zoo employee who always gave me a friendly "hello".  There I was face to face with a silent jaguar, an inquisitive gorilla, a stoic giraffe, and a baby elephant wagging its ears at me.  It was peaceful, beautiful, and quiet (except for the caws of the birds and occasional growl of a big cat), and I marveled at being able to enjoy and appreciate these residents of the Zoo in the calm, uncrowded morning.  Needless to say, my first morning walk was much more of a stroll to allow taking in all that the Zoo has to offer.
Since then, I've picked up the pace, but still make sure to pause and check in with my favorites—the jaguar, the giraffes, and the elephants.  I also have started to vary and lengthen my route, since one mile is no longer enough to enjoy everything I want to experience.  And as the fall weather arrives, I won't be alone in my walks-after hearing me describe how much fun I have every morning, my husband plans to join me.  In addition, I've added the Zoo to my list of places I must take out of town family and friends to visit, and everyone has loved to experience it.
Medical experts say that almost everyone can benefit from a brisk walk—it's good for your heart, bones, muscles, and most importantly, your sense of well-being.  I urge everyone to get a Houston Zoo membership, and enjoy the benefits of walking through the lush landscaped grounds.   It costs a lot less than a gym membership, and you'll not only feel better physically, but you will support the Zoo's mission to preserve and protect animals and their habitats, and also learn a lot about the creatures with whom we share this planet."
From all of us here at the Houston Zoo, we want to say thank you to Laurie and all of our Zoo Members. As a Houston Zoo Member, your support truly makes an impact on the growth of our Zoo and conservation efforts. THANKS!