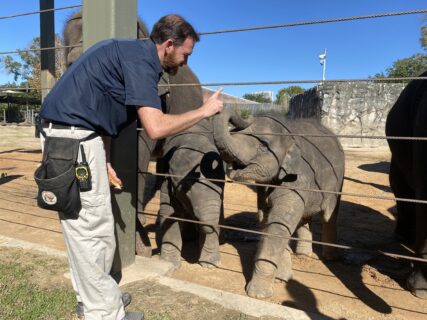 Class is in session at the Houston Zoo! The Zoo's dedicated animal care teams are fully focused on teaching the younger animals crucial husbandry behaviors. Learning these behaviors enables them to willingly participate in their own medical care. Practicing husbandry behaviors is part of all the animals' daily routine to ensure they are happy, healthy and to determine if veterinary care is needed.
Four-month-old capybara siblings, Bruno and Pepa, are learning target training, where they get a treat for each behavior they're asked. Their training includes standing on their back legs for full body checks. Over at the sea lion beach, the juvenile sea lions are sharpening their skills and get a fishy reward for each flipper check. And Betty, whose birthweight was the smallest Goeldi's monkey ever recorded, is learning husbandry behaviors that will help her transition to her outdoor habitat permanently.
Winnie and Teddy, the Zoo's youngest elephants, are also familiar with the "ask and reward" system. They started formal training when they were three months old and routinely practice lifting each foot to check their nails and pads. They've also learned to open their mouths while holding their trunks on their heads so keepers can check their teeth and gums.
By visiting the Zoo, guests can see some of the animals practicing their husbandry behaviors with their keepers during Meet the Keeper Talks presented by Phillips 66. By watching these animals brush up on their skills, guests are helping to save their wild counterparts. A portion of each Zoo membership and admission ticket supports wildlife-saving efforts.