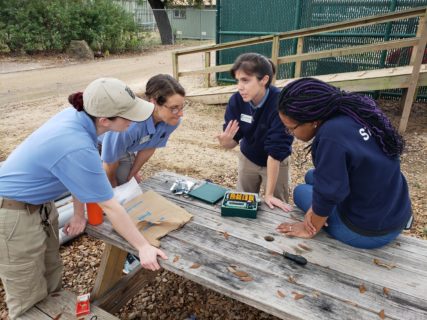 Our Staff Pollinator Pal today is DeAndra Ramsey.  DeAndra is our School Program Coordinator in the Conservation Education Department and Conservation Champion for Texas Bat Monitoring.  She started working at the Houston Zoo in 2010 and considers it an honor to come to work everyday at the zoo she grew up with.  She considers herself a Native Houstonian although she technically grew up in the Friendswood/Pearland area.  She has always had a passion for animals and grew up knowing that one day she would get a chance to work with them and help them.  Working at the Houston Zoo gives her the opportunity to do that every single day.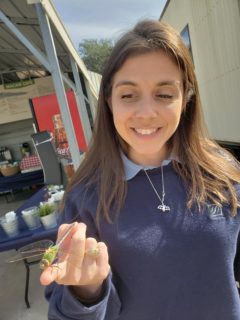 DeAndra is a real pollinator fan!  She is on the team here at the zoo that tags monarchs, but her favorite pollinators are bats. In fact, bats are her favorite animals!   A lot of people don't even realize that bats are pollinators, but they are!  In fact, they pollinate the agave plant used to make tequila along with fruits like mango, banana and guava.
She has always had the same passion for pollinators that she had for all animals.  After coming to the Zoo in 2010, she got the chance to work on a variety of projects that allowed her to learn more about pollinators specifically.  The more she learned, the more she fell in love with them!  Since they have such a huge impact on our everyday lives, it was easy to speak to people about why we should work to save them in the wild.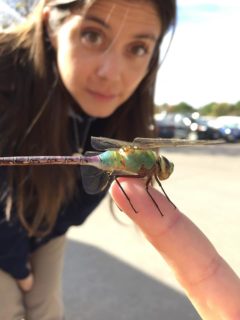 What is DeAndra doing to help save pollinators in the wild?  She says she has the honor of starting pollinator gardens at local schools in her role as the School Programs Coordinator.  She also works on a Staff Conservation Fund Project called the Prairie Pollinator Pathways where the team installs pollinator gardens through out the Clear Lake Area.  She is also a part of the Pollinator Initiative Community where she gets to assist all zoo staff in their pollinator endeavors.  At home she works hard to keep her yard and gardens chemical free and plants plenty of native plants.
What would she like people to know about pollinators?  Two things.  First, that pollinators are so diverse!  Everyone thinks about bees but they forget about the birds, bats, butterflies and all the other animals that serve as pollinators.  Second, pollinators do so much for us!  Without pollinators, our every day lives would look MUCH different.  From the food we eat to the clothes we wear, to the products we use, we have pollinators to thank for things we need and use EVERY day.
How can you help save pollinators in the wild?  One easy way is to plant a pollinator garden.
Here are some awesome resources for plant selection and purchase:
Houston Audubon: http://www.birdfriendlyhouston.org/get-started/the-basics/native-plants/natives-nursery/
Native American Seed: http://www.seedsource.com/Default.asp
Native Plant Society of Texas, Houston Chapter https://npsot.org/wp/houston/
Another benefit to planting your own pollinator garden?  Bring photos, reports or journals about your garden to the Swap Shop at the Houston Zoo.  You will be registered as a Houston Zoo Pollinator Pal along with earning points to spend in the shop!  Don't know about the shop?  Click here to learn more.