Zoo News Blog
Houston's Second Baby Giraffe Gets a Name and Makes Her Debut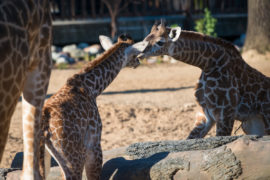 The Houston Zoo's second baby giraffe born in the month of April made her public debut today, Thursday, May 4. The giraffe team also selected the name Mara for the newest arrival. Early this morning, Mara and her mother, Asali, were given access to the main yard at the McGovern Giraffe Habitat, accompanied by one-month-old, Zindzhi and her mother Tyra. After Mara got acquainted with her surroundings, the team introduced the calf to the rest of the giraffe herd. Baby and mama will continue to spend time in guest-view for parts of each day in good weather.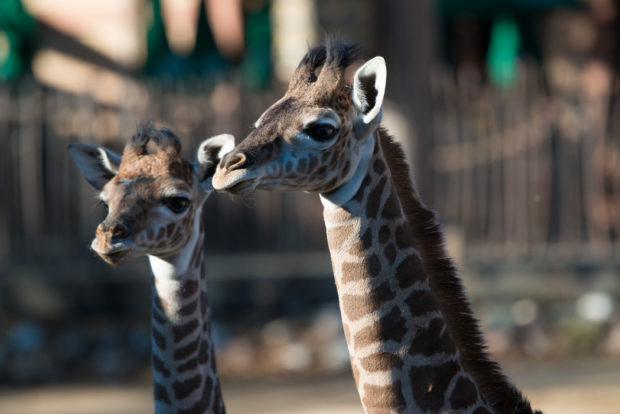 Quick Birth Facts
Born: Monday, April 24 at 8:30 a.m.
Height: 6'6"
Weight: 148 (now 167!) pounds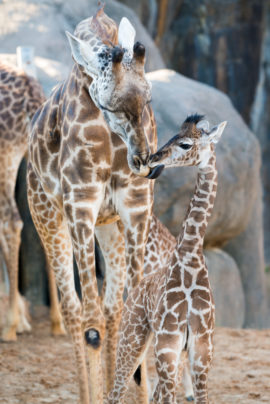 How does the Houston Zoo help save giraffes in the wild?
Just by visiting the Houston Zoo, guests are helping save giraffes in the wild. Admission tickets and memberships help fund important work that protect giraffes in the wild.
The Houston Zoo provides funds and training for local people in Africa to protect wild giraffes from poaching and harm. They walk long distances in areas of Africa where giraffe live to arrest illegal hunters and collect harmful wire traps set for wildlife in the trees and bushes.
The Houston Zoo provided training and funds for Enock Zulu, an Anti-Poaching Unit Manager leading a local community anti-poaching unit in Hwange National Park in Zimbabwe. In his six years of leadership, Zulu's teams have collected over 12,784 wire traps, rescuing 14 animals from snares, and have arrested nearly 90 poachers. He and his team risk their lives to protect giraffe and other wildlife every day.