Zoo News Blog
Houston Zoo's New Veterinary Clinic Provides Care for Rescued Sea Turtles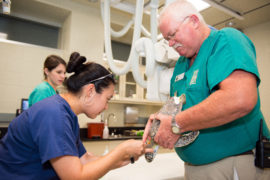 Along the Gulf of Mexico, we all know summertime is actually spelled BEACH. Texans from all around flock to the sandy shores during the hottest months of the year in search of relaxation and relief from the heat. As it turns out, we aren't the only ones making a beeline for the shore! April marks the beginning of nesting season for sea turtles along the Gulf Coast, which means the number of Kemp's ridley and green sea turtles making use of our beaches skyrockets. Unfortunately, a trip to the beach for our endangered friends may not always be smooth sailing as plastic pollution, fishing equipment, and natural predators make formidable opponents – but that's where our veterinary clinic, clinic team and partners at NOAA (National Oceanic and Atmospheric Association) come in!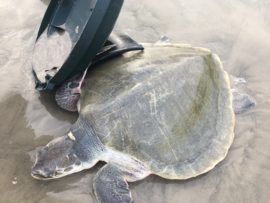 Our vet clinic team provided medical support for a number of sea turtles in our clinic this summer. Two sea turtles, a large loggerhead and a smaller Kemp's Ridley were accidentally caught by fishermen at Seawolf Park and 61st Street Pier. Two more Kemp's ridleys were found entangled in plastic debris – one was found on the beach connected to a trashcan lid by a shoelace, and the other was tangled up in balloons and ribbons along with other trash. A handful of sea turtles were also stranded along our shoreline as a result of the rotating ocean currents that gifted us with unusually clear water over Memorial Day weekend.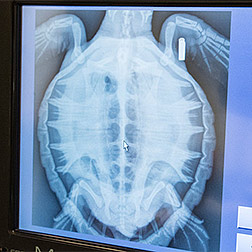 While the summer can seem like a perilous time for sea turtles, it can also mark the start of a second chance at life in the wild. At the end of May, our partners at NOAA conducted a public release of 11 rescued sea turtles on Stewart Beach in Galveston, followed by a private release of an additional 21 green sea turtles that eagerly ventured off into Christmas Bay. Some of these lucky turtles are among the ~80 sea turtles that receive medical care from the Houston Zoo every year. Thanks to your support, we are able to not only provide medical care for sea turtles, but also participate in monthly beach cleanups that will help to ensure this species can continue to call Texas home for many years to come.
Every Monday, NOAA biologists and a Houston Zoo staff member drive over 70 miles of beach from Bolivar to Surfside searching for signs of sea turtles and responding to calls reporting sea turtles in need of help. Any turtles collected by NOAA are driven here to the Zoo, where our veterinary team take xrays, administers medications, performs hook extractions, and anything else the turtle may need in the Zoo's new veterinary clinic.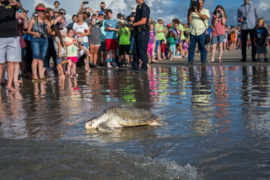 For the 11th annual Wildlife Conservation Gala at the Houston Zoo, we're shining a spotlight on the species and habitats of the Lone Star State! We'll come together as Texans to raise the funds our Zoo needs to keep saving Texas wildlife like sea turtles. To learn more about how you can save sea turtles, click here.