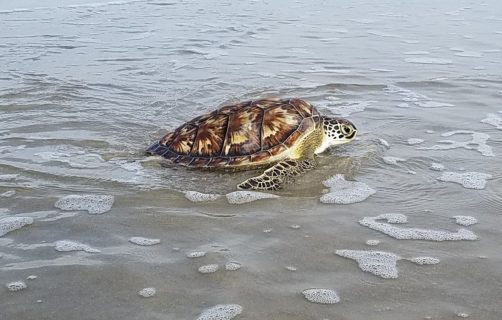 This morning, we released a green sea turtle, affectionately known as "Beefcake," back into the Gulf of Mexico. The turtle was found earlier in the month entangled in fishing line in Galveston, TX. The Zoo's sea turtle hospital keepers transferred the turtle to our vet clinic for a veterinary exam, and then back to Galveston for a few weeks of care. Once deemed healthy, Beefcake was returned to the Gulf.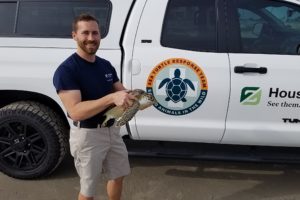 People are urged to call 1-866-TURTLE-5 if they find or accidentally catch a sea turtle so that an expert can assess the turtle and provide care if needed. 
There are five species of sea turtles inhabiting the Gulf of Mexico, all of which are either threatened or endangered. They include the Kemp's ridley, green, leatherback, Atlantic hawksbill, and loggerhead sea turtles.  
Some of the threats sea turtles face in the Gulf are:   
Plastic pollution

 

Entanglement in recreational fishing line, commercial fishing nets and recreational hooks

 

Vehicle traffic

 

Development of beaches and light pollution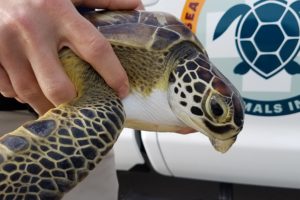 Sea turtle populations are slowly recovering thanks to the collaborative effort of scientists, non-profits, universities, grass roots organizations and many dedicated people. Every time you visit the Zoo, you're helping us save sea turtles in the wild.