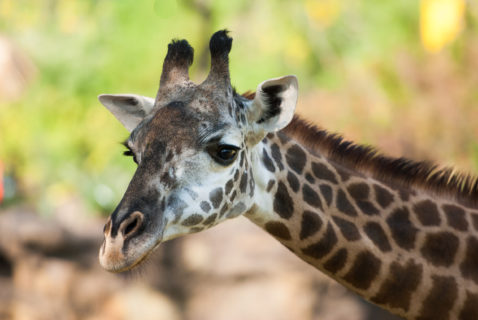 Tyra, the Houston Zoo's 21-year-old, Masai giraffe, died this afternoon after a long life. Due to the tremendous care provided to her by the Houston Zoo keepers and veterinary team, Tyra lived well beyond her median life expectancy for a giraffe in a zoo, which is about 17 years.
The mother and grandmother has had 10 calves here at the Houston Zoo, including Asali who has several calves of her own, like Gigi. Also, over the last 20 years, Tyra and her offspring have made significant contributions to the genetic stability for the species as a part of the Association of Zoos and Aquariums Species Survival Plan. The mission of the SSP program is to cooperatively manage specific, and typically threatened or endangered, species populations within AZA-accredited Zoos and Aquariums, Certified Related Facilities, and Sustainability Partners.
In recent months the hoofstock team observed a slow decline in her condition and has been working with the veterinary team to evaluate and treat her. During evaluation, the giraffe keepers and the veterinary team determined that Tyra was suffering from several age-related changes associated with her digestive system, and the team has been attempting multiple treatments to help her recover. While the veterinary team performed several diagnostic evaluations and treated her symptoms, sadly, she succumbed to her illnesses today. Tyra will be missed by the entire Zoo family.