Zoo News Blog
Houston Zoo's Crisis Response Fund Lends a Hand to Wildlife Saving Partners
We all know that one person that always keeps their cool in an emergency. They are our rock, logically assessing the situation, keeping everyone around them calm, and working hard to resolve whatever issue they are confronted with. Here at the Zoo, we have a whole team dedicated to responding to emergencies, and ensuring the safety of everyone on Zoo grounds – the Rangers. Our Ranger team is not only responsible for safety and security on Zoo grounds, but they also provide support to our wildlife conservation partners around the globe whenever they need help mitigating a crisis. How is this done? Through the Zoo's Crisis Response Fund. Simply put, the crisis fund exists to provide support in the event that a wildlife conservation crisis or urgent situation has occurred, and is in need of urgent action. Members of our Ranger team sit on a committee that assesses each situation and uses a criteria to see how the Zoo can help partners in their urgent time of need. Since the beginning of the year, the conservation team has sent Rangers requests from three of our partners in need of support:
Okapi Conservation Project – Democratic Republic of Congo

Eastern Democratic Republic of Congo is home to multiple armed groups that compete for control of the region's vast mineral resources. This can make living and working in the area quite dangerous, but it is also the only place in the world the endangered okapi live in the wild. On February 17th, one of the Okapi Conservation Project's vehicles was ambushed by an unidentified group while carrying staff back to the okapi reserve. Tragically, 7 individuals lost their lives and an additional 3 were injured in the attack. The team's truck was also damaged beyond repair. The Crisis Response Fund was able to help the Okapi Conservation Project purchase a new truck in order to ensure that daily operations could continue as the team worked to recover from this tremendous loss.
Turtle Survival Alliance (TSA) – Madagascar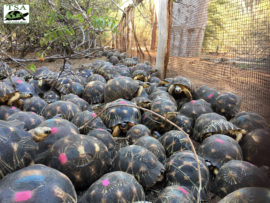 On the night of April 10, TSA staff were alerted to the confiscation of 10,976 critically endangered radiated tortoises from a single residence on the southwest coast of Madagascar. This is the largest rescue the TSA has encountered to date, and as such, it presented staff with many challenges. Each tortoise needed to be processed, evaluated, and provided with any medical care necessary before being placed in a temporary housing facility where they could be monitored throughout their recovery. An undertaking of this size is both labor-intensive and time consuming, and ongoing care can become quite expensive. The Houston Zoo was able to provide additional funding to help TSA carry out their wildlife-saving mission.
Hirola Conservation Program – Kenya 
Over the last three months, the area in and around the Hirola Conservation Program have experienced some of the worst flooding ever recorded, second only to the disastrous El Niño of 1997. These periods of high rainfall and flooding have previously proved to trigger livestock disease outbreaks that are escalated by vectors such as mosquitoes not only in Kenya, but across the East African region. Throughout the hirola's geographical range, several million head of livestock co-occur with hirola and other wildlife species, as does the risk of viral and bacterial disease spread across species. The spread of disease from one species to another can lead to mass mortality of wildlife, livestock and in some cases, even humans. With the support of the Houston Zoo, the Hirola Conservation Project was able to secure crisis funds to vaccinate local livestock against various diseases, lessening the threat of an outbreak and further protecting the critically endangered hirola.
We are dedicated to doing everything we can to help save animals in the wild, and are grateful to each and every one of you who make programs like this possible through your visit to the zoo.