Our very own Sara Riger, Naturally Wild Swap Shop naturalist, has won the Golden Keeper award by the American Association of Zoo Keepers (AAZK). Sara was crowned champion after receiving the most "likes" from peers, family, and several supporters on the AAZK Facebook page contest.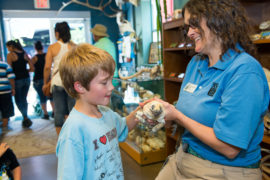 Zoos and aquariums across the country celebrated National Zoo Keeper Week July 16 – 22, highlighting the diversity of zookeepers and their contributions to global conservation efforts. AAZK, celebrating their 50–year anniversary, received nominations from several zookeepers around the country for the first-ever Golden Keeper award. Nominated by her close colleague, Katie Buckley-Jones, Sara was one of just 10 zookeepers chosen as a finalist.
Sara's career working at zoos began more than two decades ago. She began working at the Bronx Zoo in New York 25 years ago working with birds and mammals. She then moved to an upstate New York zoo to work with primates and lions. From New York, Sara moved to Tennessee to work for the Nashville Zoo, where she helped open their Critter Encounters exhibit and later became a supervisor of mammals. For the past 13 years, Sara has worked at the Houston Zoo, caring for carnivores, primates, and now working in the Swap Shop. As a naturalist in the Swap Shop, she inspires guests to explore the outdoors and save animals in the wild.
You can meet and visit Sara, and learn all about the natural world, at the Naturally Wild Swap Shop, located in the John P. McGovern Children's Zoo. She'll be there to greet you with a warm smile, and sometimes with an animal in-hand!
We are so proud to have someone as passionate, dedicated, and kind as Sara on our team. Please join us in congratulating Sara on this wonderful achievement!