Zoo News Blog
Houston Zoo Sweetly Remembers Young Mandrill, Annabelle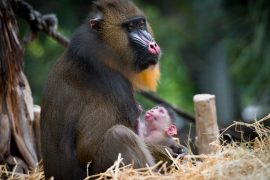 A little more than two years ago, the Houston Zoo was celebrating the birth of Annabelle, the first mandrill to be born at the zoo. On Tuesday, Jan. 3, the zoo mourned the death of the precious primate. Annabelle was born with a congenital brain condition which caused seizures and developmental challenges throughout her life, and led to complications with her legs. After a significant fall on Tuesday, the primate and veterinary teams rushed into action to treat the young mandrill. Sadly, after several tireless hours of medical care, it was deemed necessary to humanely euthanize her.
Annabelle was well-loved by both Houston Zoo guests and the primate keeper staff who cared for her. She was easily recognized in the mandrill habitat at the Wortham World of Primates with her miniature features, and penchant for jumping and hopping around her mother, Louise. It was clear to anyone who knew her that she didn't let her disabilities slow her down.
Mandrills are known for their striking facial features, including blue-colored ridges on the sides of their muzzles and a brilliant red stripe down the middle. Native to tropical rainforests of west central Africa, mandrills are classified as vulnerable to extinction primarily due to deforestation and the bushmeat trade.