Zoo News Blog
Houston Zoo Receives Rescued Sea Turtle in Sharpstown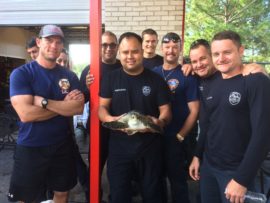 On Wednesday, Aug. 30, the Houston Zoo answered the call to receive a green sea turtle who had been rescued by a resident in Sharpstown, and handed over to the firefighters at Houston Fire Station 51. The first responders named the turtle "Harvey" after the natural disaster that likely brought the turtle so far out of his natural habitat.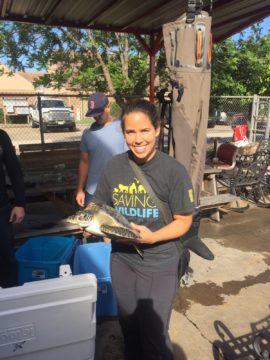 The resident found the turtle in road and just knew it didn't belong this far inland.  The firefighters immediately put it into a cooler with a wet towel to maintain its body temperature and keep it wet, as directed by sea turtle biologists after the rescue was reported to the National Oceanic and Atmospheric Administration (NOAA) in Galveston. NOAA, a long-time partner of the Houston Zoo, called our team to see if we could get to the turtle.
Fortunately, the zoo's conservation impact manager, Martha Parker, lives a few miles from the fire department and could safely get to fire department, and also to the Houston Zoo.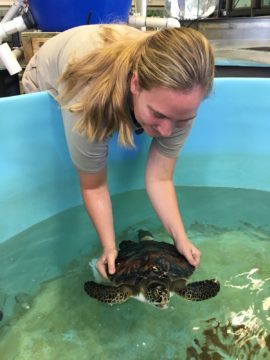 The green sea turtle was checked over by one of the zoo's four veterinarians, and found to be healthy. Harvey suffered a few minor scratches on his big journey north, and he is now safely with the zoo's aquarium team until it can be re-released into Galveston Bay or moved to NOAA's sea turtle facility.
If you find an injured or stranded sea turtle, please call 1-866-TURTLE-5 so someone can respond to the turtle-giving it adequate care and attention.