Zoo News Blog
Houston Zoo Helps Local School Choose New Mascot to Support Saving Wildlife!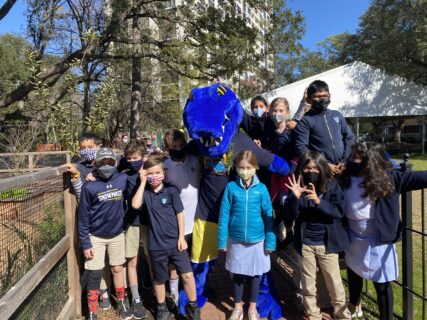 Located along the banks of Buffalo Bayou, The Fay School, an independent school, has served as an exceptional learning environment for elementary education for 30 years. The Fay School focuses on hands-on, experiential learning in nature but needed a mascot to call their own! That's where the Houston Zoo's Saving Wildlife School Partnership stepped in to help. This program is an opportunity for motivated students and school staff to learn about animals and take action to help reduce threats these animals face in the wild. Many of our partner schools focus their wildlife-saving actions around the school mascot, but first, Fay had to pick its first-ever mascot!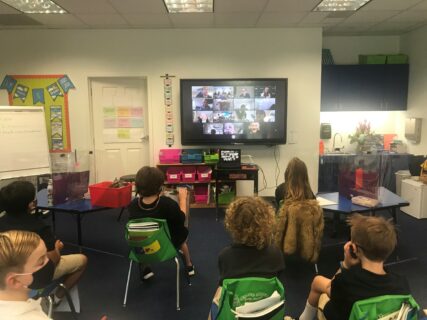 With the help of Zoo staff, each second grader at Fay identified a list of Texas-native species that could potentially live in their "Fay Forest" to represent the school. The students then embarked on a project-based learning unit with their guiding question front and center: What actions can we take to save our animal neighbors? The students researched everything from anoles, snakes, and osprey to bees, alligators, and armadillos. They met multiple times with Zoo staff via Zoom to learn about these animals, what they need to survive, and how human's daily actions are impacting their survival in the wild. This was a huge undertaking! But, at the end of the day, they had to find out as much as possible about each species to decide which animal would best symbolize the values of the Fay student body.
After narrowing it down to alligator, armadillo, or coyote, Fay's second graders produced this video to share with the entire school. After viewing the video, the whole school cast their vote for the school's first-ever mascot. Ballots were counted, and the answer was loud and clear, alligators for the win! The brand-new Fay Gator, named Ernie, emerged from the bayou and made its appearance just in time for the spring 2021 semester.
This project was so engaging that it was recognized nationally by the National Association of Independent Schools, NAIS, the independent school governing body, highlighting the authentic, engaging, and innovative learning that occurred with this project. We are proud to have helped the students learn about and choose a Texas-native reptile to represent their school and are excited to see what actions their school will take to start saving alligators in the wild!
If you're looking to support wildlife just like the Fay School, choose reusable water bottles, bags, and straws to go single-use plastic free. Or just visit the Zoo! A portion of each ticket sold supports wildlife conservation so coming to meet our American alligators, Snap and Pop, in the Katherine G. McGovern Texas Wetlands helps to save them in the wild. Go Gators!