Zoo News Blog
Houston Zoo Has Two New Blue-billed Curassow Chicks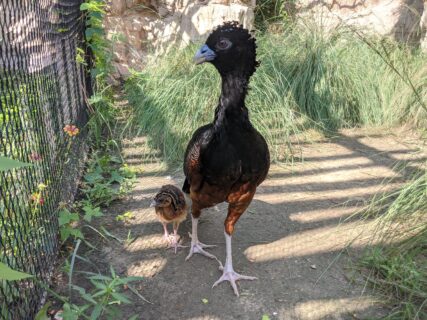 The Houston Zoo is thrilled to have successfully hatched one of the most endangered of all birds, the blue-billed curassow. One of the chicks is being hand-reared while the other chick is being parent-reared by the blue-billed curassow hen. Parent-rearing by a curassow is rare and hasn't been attempted in more than 25 years at the Zoo. Typically, the Zoo foster-rears curassow chicks with a domestic chicken but with the addition of the new Pantanal exhibit, it allowed for more space to attempt parent-rearing. The parents of these two chicks are considered the most genetically valuable in the Association of Zoos and Aquariums (AZA) population. The male was imported from Portugal in 2011 as part of AZA's Species Survival Plan. Guests can see the parent-reared chick in their exhibit in the Zoo's newest exhibit South America's Pantanal. The hand-reared chick is being housed in an off-exhibit facility. Both chicks are maturing quickly and thriving in their environments.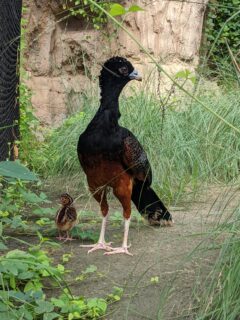 The Zoo has housed blue-billed curassows since the 1960's. They are endemic to Colombia and considered critically endangered with less than 2,500 blue-billed curassows left in the wild. This large, mainly black species is the only curassow with a distinctive blue cere (the spot at the base of the bill), earning the bird its common name. The male is black with a white vent and tip to the tail, the feathers on the crest are distinctively curled. Females are black with black and white crest feathers and fine white barring on the wings and tail.

The blue-billed curassow faces several threats in the wild including deforestation, habitat loss, hunting and poaching. The Houston Zoo is one of a few zoos in the United States that breed these critically endangered birds, and we are providing training and support for our conservation colleagues in Colombia to protect them in the wild.  

Guests are helping save blue-billed curassows by visiting the Zoo. A portion of zoo memberships and admission goes toward providing support for research and camera trapping (hidden cameras set to take pictures of wildlife that are triggered by movement) studies in Colombia. The Zoo also supports work to replant and protect forests in Colombia. Our Zoo staff have trained and assisted zoos in Colombia to reproduce Blue-billed curassows for possible reintroduction programs in the future.