Zoo News Blog
Houston Zoo Generates $240 Million in Impact for the Houston Economy

A recent study conducted by nationally recognized economist John J. Antel, Ph.D. at The University of Houston Hobby School of Public Policy reports that the combined effect of the Houston Zoo's operating and capital budgets, and from the spending of Zoo visitors from outside the metropolitan area in 2018, generated $242,435,755 in economic impact to the Houston area economy that year.  "The Houston Zoo connects communities with animals to inspire action to save wildlife, and we're proud to achieve this mission while contributing to the overall health of the Greater Houston economy," said Houston Zoo President and CEO Lee Ehmke. "Our commitment to our local community is evident in our dedication to creating the best possible experience for our employees, animals, and guests."
The report also concludes that looking at the years 2013 to 2022, actual and proposed Zoo capital spending has and will make significant contributions to the local economy. Zoo capital spending in the years 2013 to 2022 will contribute more than $524 million to local output and contribute more than $181 million to local earnings. These capital improvement projects will create an estimated 3,450 jobs over the nine-year period. 
In researching the Houston Zoo, economist Dr. Antel said that he was particularly "surprised about the extent of the Zoo's aggressive construction campaign" and was "impressed by the careful stewardship of the animals and dedication to preserving wildlife around the world." In 2018, the Zoo announced it will celebrate its 2022 100th anniversary by completing the most dramatic transformation in its history. Through four major projects, the Zoo will redefine what a zoo can be with beautiful and immersive habitats, compelling guest experiences, and an unyielding commitment to saving wildlife. 
The first project, Kathrine G. McGovern Texas Wetlands opened in 2019. Texas Wetlands brings together three native Texas species—bald eagles, whooping cranes, and American alligators—in a lush wetland habitat. Thanks to the Endangered Species Act and the efforts of Texans, these three species, once close to extinction, now thrive in the Lone Star State.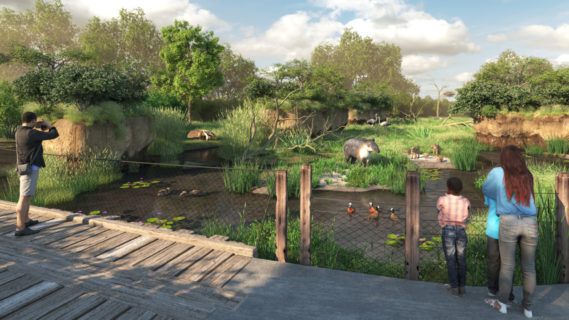 Next, in the summer of 2020, the Zoo transport guests to the tropical Brazilian wetlands when it opens South America's Pantanal. This truly immersive experience takes guests on a journey through lush forests and grassland environments to see giant river otters, jaguars, anacondas, tapirs and capybaras as well as a trio of aviaries—including an immersive walkthrough aviary. In 2021 new Asian aviaries open, and in 2022, just in time for the centennial celebration, the Zoo will open an homage to the Galapagos Islands in a spectacular exhibit, home to sea lions, sharks, sea turtles, rays, fish, and the famously eponymous tortoise. 
Not only will these projects help to celebrate and expand the Zoo's conservation impact but will also continue to grow the economic benefits flowing from the highly successful public-private partnership between the City of Houston and the Houston Zoo which launched in 2002.