Zoo News Blog
Houston Zoo Conservation Partners Provide Leadership Training to Zoo's Summer Interns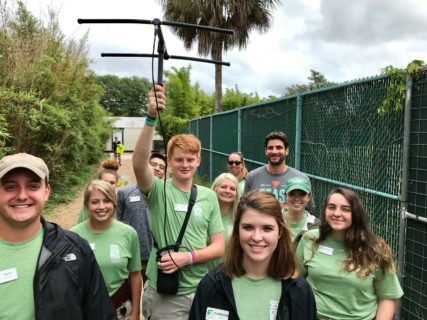 Summer is officially upon us which means the Houston Zoo's Collegiate Conservation Program (CCP) is in full swing! Sponsored by ExxonMobil, this program specially selects 10 exceptional college students each year to spend the summer learning from, and working alongside Houston Zoo wildlife saving staff. Throughout the summer these students will also have the opportunity to learn from two members of our extended saving wildlife staff that work in different countries outside of the US.
Next week, Gabriel Massocato, Houston Zoo conservation associate and Brazilian Giant Armadillo Project Biologist, will take a break from his wildlife protection work in the Pantanal, Brazil for a week to be a guest instructor for CCP. The Houston Zoo has partnered with the Giant Armadillo and Giant Anteater project for the past 7 years to enhance their research and efforts to establish long-term protection plans for wildlife in Brazil, with an emphasis on giant anteaters and giant armadillos! These species are found in the wild in Central and South America, where they face threats from habitat loss and agricultural expansion.
Gabriel shares a special bond with the CCP students, as he too was a college student that had a dream of working to protect wildlife – he knows how difficult it can be to find your wildlife saving path. The Zoo now supports Gabriel's salary and provides him with training to strengthen his leadership skills.  He is so grateful to assist with training the next generation of conservation leaders.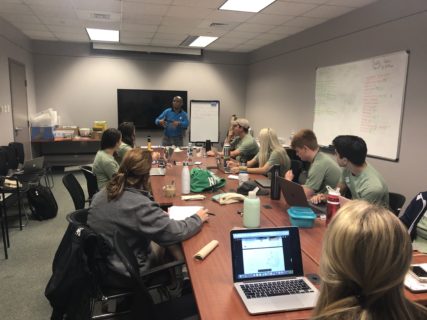 Later this summer the CCP students will be visited by another one of our extended wildlife saving family members, this time from Madagascar! Dr. Jonah Ratsimbazafy, is the Houston Zoo's Director of Madagascar Programs and Director of GERP, an organization in Madagascar that is saving lemurs in the wild.  Jonah is also a professor in the primatology department at the University of Antananarivo in Madagascar.  He is very passionate about sharing his experiences,  inspiring and guiding the next generation of conservation leaders.  In the past few years, Jonah and the team at GERP have discovered two new species of mouse lemurs and have replanted countless trees in their study sites.  Jonah and his team have risked their lives for their native wildlife, and Jonah has become famous for saying, "No lemur will go extinct in my watch!"
Jonah and Gabriel will each spend one week with the students, leading them on current field conservation topics such as monitoring techniques, properly engaging stakeholders, and addressing human/wildlife conflict.