Paint and Wildlife
The Houston Zoo cares about animals in the wild, and is taking steps to ensure that everything we do on Zoo grounds is done with wild animals in mind. A simple effort like being aware of what types of paints we use has a surprisingly large impact on wildlife because it impacts their natural environment.
Paints can have harsh chemicals that affect the air we all breathe, or if you dispose of leftover paint improperly, it can get into the streams and waters wildlife like sea turtles call home.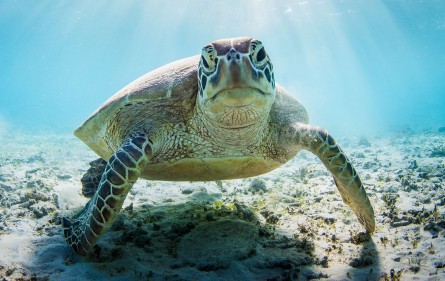 Paint and the Houston Zoo
Recently the Zoo used environmentally friendly paint to label the storm drains behind the scenes as a reminder that the cleaner we keep our waters, the healthier our wildlife. Storm water drains are a part of all cities, helping alleviate flood waters that build up during storms and are meant only to have rainwater since Houston storm drains lead right back out to our bayous, and eventually flow to the Gulf of Mexico.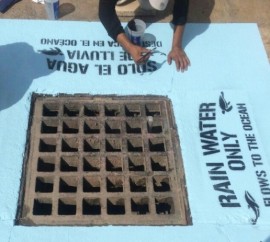 For our storm drain project we were able to visit New Living to source paint that is water-based and contains no volatile organic compounds in both the paint and paint pigments. These compounds, called VOCs, are immediately noticed as the intense "paint smell" that can give you a fast headache. This smell is from chemicals that people should not breathe, and animals should not have in their water supply. The paint that New Living offers allows us to be sure that when we're using paint for projects, we have the option to choose a product that is made in a more environmentally friendly way, contains less harsh chemicals, and if ever exposed to the environment would not impact it harshly like with traditional paints.
As a Zoo-Based Conservation organization, we have chosen to include no-VOC paint whenever possible to ensure all operations of the Zoo are done in a way that is friendly for wildlife. The Houston Zoo aims to be a leader in being a part of these new and innovative practices that are conscious of our wildlife and our interactions with the natural world we all live in.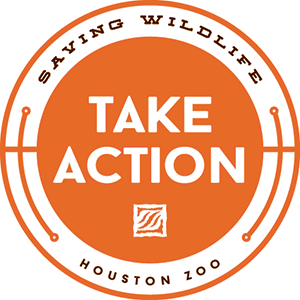 You can help save wildlife too!
If you are using paint that contains VOCs, be sure to wear safety masks and take any remainder paint to a hazardous waste facility. In Houston, you can take this kind of paint (like oil-based paint) to the West Park Consumer Recycling Center located in Houston. If you have-water based paint, you can let the paint dry (often people will mix it with cat litter for a faster drying process) and toss the dry paint in the trash for regular pick-up. 

Next time you buy paint, ask for no-VOC paint to ensure the products you are using are safe for wildlife. Visit stores like New Living to ensure you are purchasing wildlife-friendly products.
This is a sustainability reference document.