Our mission is to connect communities with animals to inspire action to save wildlife! The Houston Zoo wouldn't be what it is today without our incredible conservation partners. We're spotlighting our female conservation partners across the globe this International Women's Day as they continue to help save animals in the wild.
Supporting Wildlife Conservation Women Leaders in Asia
Dr. Nurzhafarina "Farina" Othman was born and raised in Borneo and has committed her life to protecting the Bornean elephants. Farina has been a Zoo conservation family member for over 10 years and is studying wild elephants' moving patterns. The Houston Zoo sponsored Farina's doctoral degree and provided support for extensive leadership training for her over the years. She is a compassionate and effective wildlife conservation leader that now has her own elephant conservation organization called Seratu Aatai. Dr. Farina is inspiring and mentoring many other young women scientists in her country to pursue wildlife conservation careers.
Elisa Panjang (pictured on the far right) was born and raised in Sandakan, Sabah, Borneo. She has been a Zoo conservation family member for the past five years. She has committed her life to pangolin conservation for 10 years. Besides doing research, she also acts as a Wildlife Warden to protect wildlife, like pangolins and otters, from illegal trapping and poaching. Elisa says she was inspired by Farina's conservation leadership. The Houston Zoo has provided support for leadership training and is currently supporting Elisa's doctoral degree.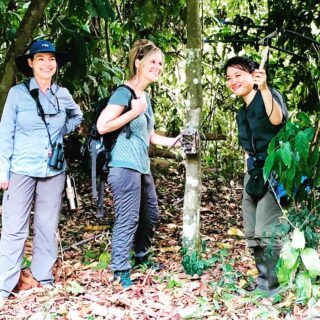 ---
Supporting Wildlife Conservation Women Leaders in Central and South America
Lady Marquez is a biologist, born and raised in the Galápagos. Lady has been a part of the Zoo's conservation partner family for the past nine years. The Zoo has provided her with professional development and mentorship throughout that time. Conducting sea turtle research during her master's training, Lady was very interested in a sea turtle conservation career, but witnessed the lack of conservation focus in schools in Galápagos and saw the need to help Galápagos youth get careers in conservation. She is now a local hero for local youth, and is the outreach program instructor for Ecology Project International, Galápagos, whose aim is to promote the active participation of local youth in the conservation of the Galápagos Islands. Lady and her teens have helped the Zoo with creating the new Galapagos Islands exhibit, opening in early 2023.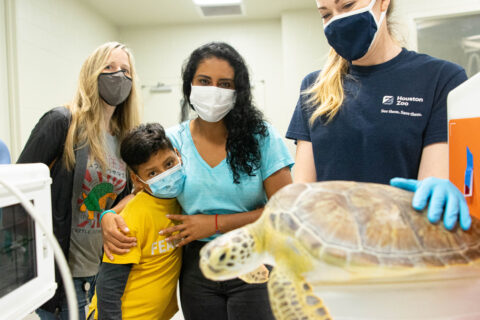 The Zoo's conservation partner, Dr. Debora Yogui, is a Brazilian veterinarian who saves giant anteaters with the Giant Anteaters and Highways Project in the Pantanal region of Brazil. Dr. Debora will travel to the Zoo this summer to receive wildlife veterinary training from the Zoo's veterinary team. She also receives support for equipment and virtual English training from the Zoo.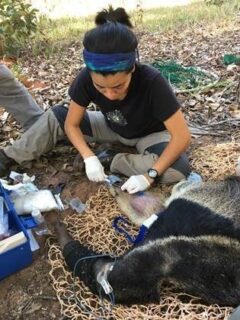 ---
Supporting Wildlife Conservation Women Leaders in Africa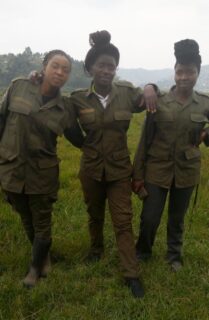 The Houston Zoo supports Rwanda Wildlife Conservation Association – RWCA's 22 women on the community rangers team at Rugezi Marsh where they help patrol and protect wildlife areas within their community in Rwanda. RWCA teaches all the children in this club about grey crowned cranes, other Rwandan birds, trees, and more. This helps children and families understand why preserving the wetland habitat is of value to them.
Valerie "Val" Akuredusenge was born and raised in Rwanda and is now the program director for Conservation Heritage-Turambe, a Rwandan-based program that educates local youth living near wild gorillas about their importance and helps protect them in the wild. Val has been the Zoo's gorilla conservation partner for eight years. She teaches local Rwandan school children and community members living close to gorillas about conservation and health to ensure they live in harmony with gorillas and their habitat. She is creating the next generation of Rwanda's wildlife conservationists by encouraging, engaging, and inspiring schoolchildren to care about their natural resources, and act on behalf of wildlife. The Houston Zoo provides training and support for Val and her education program.