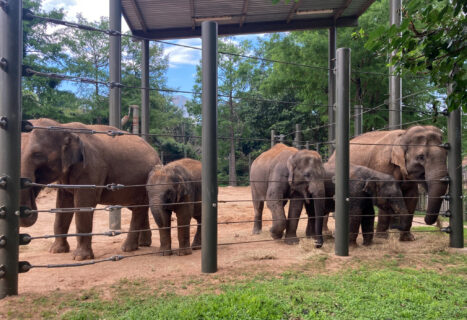 Celebrate Asian Elephant Awareness Month with us this August! Since 2020, the month of August has been dedicated to raising awareness about the threats facing Asian elephants in the wild and celebrate this endangered species as part of the Association of Zoos and Aquariums (AZA) SAFE program. Although both species of elephants are endangered, wild Asian elephant populations are about 10 times lower than their African counterparts with an estimated 40,000-50,000 Asian elephants remaining worldwide.
Every time you visit Houston Zoo, you are helping save animals in the wild. The Zoo has conservation partners all over the world including Dr. Farina Othman at Seratu Aatai. We have been protecting wild elephants in Borneo by providing mentorship, training, and support for Dr. Farina and others at Seratu Aatai. The name of this organization means "living together" and focuses on reducing human and elephant conflict in hopes to create a peaceful cohabitation with the elephants. Seratu Aatai also works with our other conservation partners in the area to replant forests for animals like Asian elephants and orangutans. In 2021, support from the Zoo planted more than 12,000 trees in forest corridors of Borneo.
Here at the Zoo, we are lucky to have 12 Asian elephants in our herd, ranging in age from 2 to 58 years old. Of the 12 we have four full grown adults, three subadults, and five juveniles. Get to know more about our herd below!
Thailand is our oldest elephant at the Houston Zoo at age 58 and the oldest breeding male Asian elephant in North America. He is about 10 feet tall at his shoulder and has the largest tusks of our males. He really enjoys watermelon after a dip in the pool.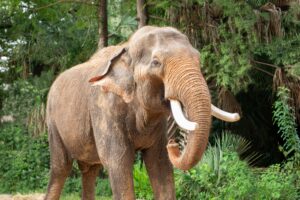 Methai is our matriarch and oldest female at age 54. She is not genetically related to any of the other elephants but plays the role of "grandma" to many of the little ones. She is easily identified by the large pink birth mark on her forehead.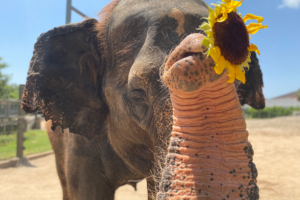 Tess, age 40, is mother to all the T named elephants. This includes Tucker, Tupelo, Tilly, and Teddy. She is the smallest adult female and enjoys eating kale and pumpkins. Look for her blonde tail hair.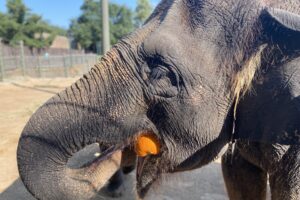 Shanti is our largest adult female. This 32-year-old is mom to Baylor, Joy, and Nelson. She is a very attentive mother and enjoys eating browse items like bamboo, banana leaves, and hackberry.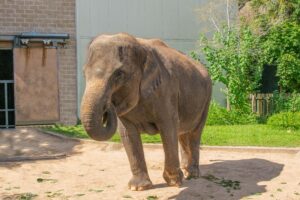 Tucker is Tess's oldest son at age 18. Although not quite as tall as Thailand, he is weighing in at over 10,000 pounds. Tucker is very smart and great to train with – when he's not being a bit rambunctious! He is known to collect water in his trunk and spray people when they walk by him.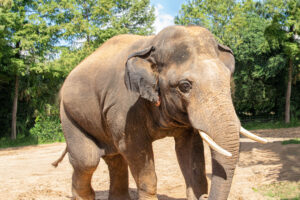 Baylor, age 13, is Shanti's oldest son. He is one of our more hesitant elephants and needs some time to get used to new things. However, he is very engaged during training sessions. He has medium sized tusks and pink freckling on his face (a sign of aging in Asian elephants).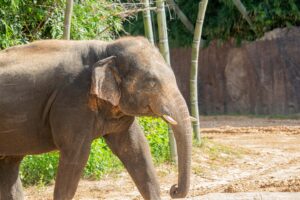 Tupelo became a first-time mom to Winnie in 2021. She is our youngest mother at age 12.5 years old. Tupelo takes after her mom, Tess, and enjoys a good mud bath and afternoon nap. She has the longest trunk out of everyone in our herd.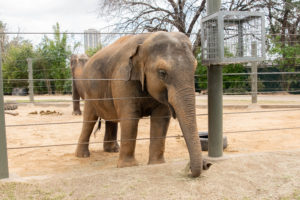 Joy, at age 6, is the oldest of our juveniles. Her parents are Shanti and Thailand. She enjoys climbing on logs and rocks and swimming with her siblings. Joy also likes to watch over her siblings when they take afternoon naps in the exhibit.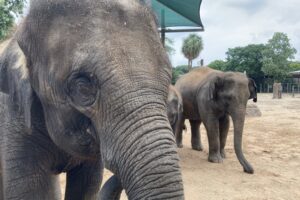 Tilly is 5 years old and can be heard vocalizing often, including making chirps, squeaks, roars, and trumpets vocalizations. She enjoys playing and swimming with her siblings and stays focused during training sessions with her keepers.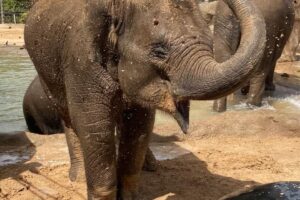 Nelson loves rough housing with his older sisters and showing off how tough he is. Even though he's only 3, he has recently surpassed his half-sister, Tilly, in weight. His tusks are getting larger by the day.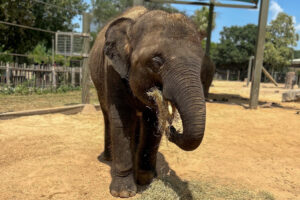 Winnie is daughter to Tupelo and granddaughter to Tess and Thailand. She was the first elephant at the Houston Zoo conceived through artificial insemination and her dad is an elephant at the Denver Zoo named Bodhi. She shares a special relationship with Methai and can often be seen hanging out around her.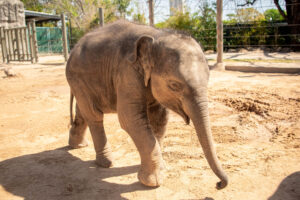 Teddy is 2 months younger than Winnie but has already outweighed her. His older siblings include Tucker, Tupelo, and Tilly. He has little tusks coming in that he loves to use on his older siblings when play fighting.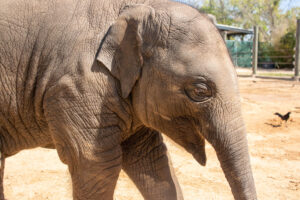 Stop by Houston Zoo this month to see all our elephants and show your appreciation for the species for #AsianElephantAwarenessMonth!