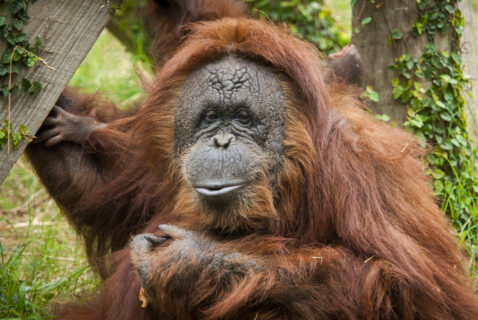 One of our female orangutans, Cheyenne, is turning 50 today! She was born in 1972 at the Cheyenne Mountain Zoological Park in Colorado Springs, Colorado. At the age of 21, she arrived to the Houston Zoo where she has become a beloved resident by guest and zookeepers alike for the past 29 years. There are three species of orangutans known Bornean, Sumatran, and the recently discovered Tapanuli. Cheyenne is a hybrid and is both Bornean and Sumatran.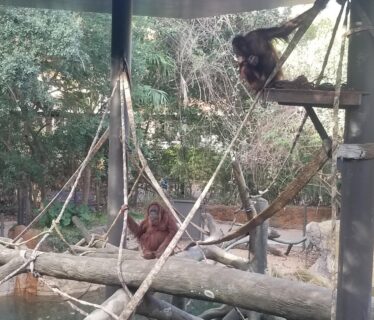 While she never had her own offspring, she was integral part of helping the Species Survival Plan® (SSP) program place orphaned orangutans here at the Houston Zoo. Her natural maternal instincts allowed her to successfully become a foster mom to a total of four infant orangutans. Aurora who was born at the Houston Zoo was introduced to Cheyenne at the age of 10 months. You can currently see Cheyenne with Aurora out on exhibit daily as they have an extremely close bond.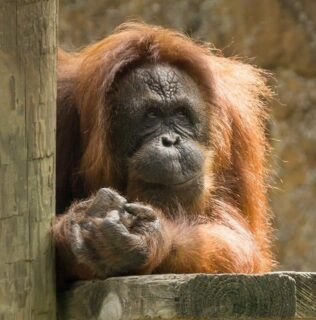 Cheyenne's personality shines through with every minute you spend with her. She is very smart and can pick up on training behaviors with ease. If keepers are in the building and are not paying attention to Cheyenne, she will make a kissing noise that will get so loud keepers are unable to have any type of conversation. She stops as soon as they look over to her. One of Cheyenne's favorite pastimes is to play with the enrichment that her keepers give her while also trying to figure out how to take a part different fixtures. She has found so many washers, bolts, and nuts that keepers have lost count. She immediately shows her keepers her newly-found prize as soon as she sees them and willingly hands it over in return for a sweet treat.
Cheyenne's keepers will be celebrating her 50th birthday on Wednesday, May 18, at 9:30 a.m. with a creative enrichment-themed birthday at the orangutan habitat. Stop by to enjoy a special keeper chat.