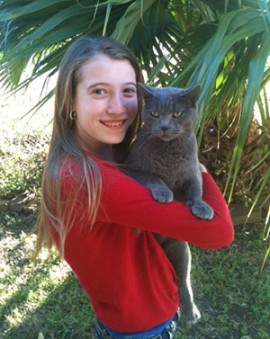 We have invited Carolyn Jess back to help us out as guest blogger in 2016 with a focus on native wildlife. Jess is a high school student who has agreed to be our special guest blogger about wildlife conservation. Carolyn was awarded the Alban Heiser Conservation Award in 2014, presented to her by Jack Hanna. If you would like to contact Carolyn or have comments, you may send them to conservation@houstonzoo.org.
---
Each year, I can't wait for applications to open up for Zoo Crew. If you're not sure what Zoo Crew is, it is a summer volunteer program at the Zoo for students 13-17 years old.

I have a few volunteer experiences outside of Zoo Crew. I am currently a member of Brazoswood Student Council and on the Pride and Patriotism Committee. Every Wednesday evening and some Saturdays, I volunteer by making teacher gifts, decorate the hallways for upcoming events, or make inspirational posters for the hallways. I also volunteer as a mentor for our Junior Naturalist program for US Fish and Wildlife. I led a group of Junior Naturalist for plant identification at the introductory meeting and help where I am needed. I also write blogs (like this one!) for the Houston Zoo.

Volunteering is important to me, and I am ready for the daily tasks and challenges of Zoo Crew. I know there is always something different every day that pops up to make my job even more interesting than the day before! Making good decisions and motivating others is a big part of Zoo Crew, and also helps me to be a great leader.

For those that are nervous about applying to Zoo Crew, I don't feel that there has been an extremely challenging part of the program, so don't be scared!. I have always learned something new in my time at Zoo Crew, whether is was in Theatrical Interpretation or the bird section, and that is the reason why I volunteer. I want to gain as much knowledge about the Zoo as I can and I know that Zoo Crew is the way to gain that information.
By returning to Zoo Crew, I am hoping to get a better idea of my career path in zoology. I know that I want to study zoology, but I'm not sure yet what exactly I want to do. I am hoping that by working Zoo Crew, I can better figure out what I want to do in the zoology field. There are so many different areas and departments of the Zoo that you get to see during Zoo Crew, which is great if you are also interested in working with animals.
One reason that I am so excited about the 2016 Summer Zoo Crew Program is because my heart is in the Zoo. Working with the people and animals at the Zoo is my passion. It represents so much more than families coming out to have a fun day. The Zoo represents a world of causes, like recycling phones, educating the public about problems like palm oil, and saving animals all over the world. I want to be a part of that action and Zoo Crew is another way for me to be closer to what is important to me!
You can apply for Zoo Crew here! Better hurry, applications close 2/29!