Zoo News Blog
The Great Orange Ape. Orangutan: People of the Forest
Orangutan means "man of the forest" in Malay and Indonesian languages where it written as Orang-utan. Orangutans are the only one of the four great apes (orangutan, gorilla, chimpanzee, and bonobo) not native to Africa; they live in the southeast asian islands of Borneo and Sumatra.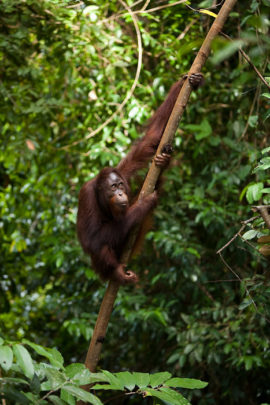 The Houston Zoo has been working closely in Malaysia with a conservation organization called Hutan (Bahasa Malay for the word forest) and their Kinabatangan Orangutan Conservation Program (KOCP). The team is based out of the village of Sukau in northeast Borneo and made up local Malaysians, many of whom have grown up in and around Sukau.
Their primary focus is to study orangutans in their native habitat, some of the last remaining habitats for wild orangutans. Their work includes assessment and monitoring of orangutan population health and genetic status, studies of orangutan ecological adaptation to degraded and fragmented habitat, development of policies for population management within and outside protected areas, and community engagement and education in the conservation of orangutans and habitat including environmental education programs for Malaysian school children.
You will hear quite a bit about palm oil plantations on some of our blogs about elephants and orangutans and that loss of habitat due to deforestation and the change in agriculture practices to these massive plantations are affecting wildlife, especially orangutans. This is true and the nest way forward will be to find corridors of habitat that can be replanted while working with plantations to find solutions for orangutans living within them, and moving through them much like the elephants. Hutans's KOCP is at the forefront of reducing these conflicts and working to protect habitat and orangutans, while working with the Sabah Wildlife Department on a strategy to protect wildlife far into the future.