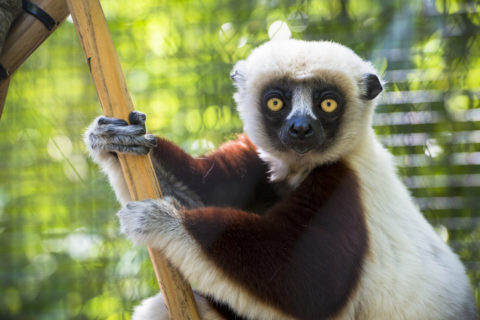 We hope you enjoyed spending time with our Coquerel's sifakas during earlier today! The Houston Zoo loves its lemurs and has worked in Madagascar with a lemur-saving organization called GERP for many years. While our keepers and veterinarians provide these incredible primates with the most extraordinary care at the Zoo, our Director of Madagascar Programs, Dr. Jonah Ratsimbazafy is working in Madagascar to protect lemurs in the wild.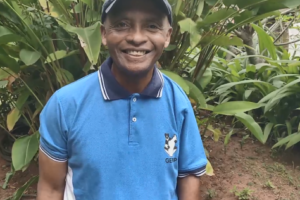 On the island of Madagascar, adorable lemurs like the Coquerel's sifaka depend on trees for both food and shelter, so as trees disappear, it becomes harder for the lemurs to access the resources they need in order to survive. Madagascar rosewood is a slow-growing tree, which means it takes many years for it to grow large enough for animals to use. Even though new trees can be planted when logging occurs, the removal of these giant trees from lemur habitat proves challenging because it could be several decades before tree saplings grow large enough to support the wildlife that depend on them. Even so, rosewood is often cut down and removed from lemur habitat because it is a highly sought-after wood that is used to make a range of products including rosewood guitars and fine furniture.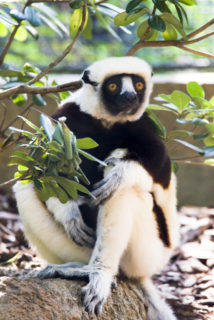 While the Coquerel's sifaka may live on the other side of the world, there are still actions we can take from right here in Texas to make sure this species thrives for many generations to come:
Become an informed shopper about furniture, musical instruments and other wood products
Whenever possible, choose locally sourced wood and don't buy anything that is made of imported wood. The Zoo sources wildlife-friendly wood from the US.
Consider buying items like furniture and instruments from resale shops instead of purchasing brand new items
To learn more about how the Houston Zoo and GERP are partnering to save wildlife in Madagascar, check out the Madagascar Special produced by KPRC.
By supporting our Emergency Zoo Fund, you help ensure that we fulfill our mission of connecting communities with animals and inspiring action to save wildlife, even during these challenging times.