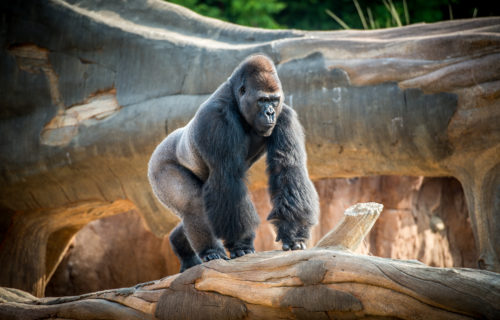 Gorillas are amazing! They are social, intelligent, they care for their young much like we do, they build a nest each night to sleep in, and the list goes on. The Houston Zoo is committed to providing the highest quality of care to the gorillas we have here in the Bayou City, and we're also committed to protecting gorillas in the wild, in Africa.
Here are ways the Houston Zoo protects gorillas in the wild:
More than 5,000 children in Musanze, Rwanda have learned to practice good hygiene and health habits that help prevent transmission of germs to the mountain gorillas who live close to their homes.

We partner with Conservation Heritage-Turambe, a Rwandan based non-profit organization that educates local youth living near wild gorillas about their importance. In 2019, our partnership enabled 217 Rwandan youth to learn about gorillas; increasing their knowledge of environmental issues from 48% to 89%. They have continued to work with students and educators virtually during the pandemic in Rwanda.

We recycle electronics at our front gate and hold an annual Houston-wide competition to see what organization can recycle the most electronics between January and April of each year, called Action for Apes. Note: This year, the campaign has been extended until September 2020.
Recycling electronics helps to protect gorillas because our devices like cell phones, contain a material called tantalum which comes from the ground in Central Africa, which happens to be where animals like chimpanzees and gorillas live. When the metal is taken from these habitats to be used in electronics, the homes of chimps, gorillas and an array of other animals become disrupted. By recycling these used items such as cell phones with the Houston Zoo, you help protect animals like chimpanzees and gorillas that live in areas where cell phone materials are mined. In 2019 alone, Houstonians recycled 1,544 electronic devices to help protect gorillas.
If you've previously visited the gorillas at the Houston Zoo, you likely saw this sign discussing the importance of recycling electronics to save gorillas.
You can find out more about how the Houston Zoo protects gorillas in the wild, from the comfort of your own home. Check out this one-hour TV special we filmed with partners, KPRC Channel 2, on our work to save gorillas in Rwanda.
With our gates still closed, your support is more critical than ever. Support the Houston Zoo Fund to help us continue our work to connect communities with animals and inspire action to save wildlife.