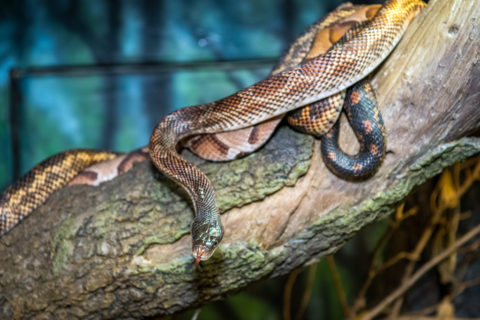 Earlier today, you got to spend time with our snake-saving specialists at the Zoo. They help our guests understand how important snakes are and how they help with pest control here in Texas.
The Zoo also provides supplies, training, salaries, and support for snake savers in India trying to save king cobras and other wildlife. Our snake saving partners at Eastern Ghats Wildlife Society (EGWS) equip local people in rural communities with the skills and tools to avoid snake encounters and respond to them safely, protecting both humans and snakes. The local communities there now understand how valuable snakes are in protecting them from rats and other pests.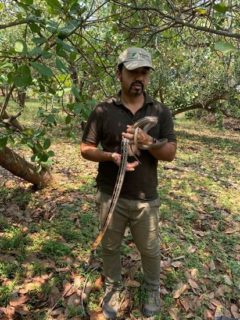 Director of EGWS and Houston Zoo India Conservation Associate, Murthy Kantimahanti, has worked with our herpetology staff and loves their tireless efforts to save Texas snakes.
Here's a snake-saving update from Murthy,
"India is currently under a 40-day country lockdown to combat the COVID-19 pandemic. The vast majority of the areas where we work are rural and remotely accessible. While we strictly comply with the regulations set up by the government in these turbulent times, a snake rescue becomes inevitable when local communities report the presence of large venomous snakes like King Cobras in their neighborhood!
Decreased human activity during the lockdown period seems to have increased the activity levels of some common species resulting in more human-snake encounters lately. Our ever vigilant rescue team has been rescuing more snakes (in a given period of time) from human habitations since the lockdown period, bracing all the odds and facing new challenges while working with the state government and following strict social distancing norms.
The other day, our team was given special permission by the state government to travel and rescue a 10-foot long King Cobra. Our two-member rescue team wore facial masks, carried hand sanitizer, and followed all the norms suggested by the government while going out in exceptional cases of emergency."
We can't achieve our mission of saving wildlife without you–and your support is more critical than ever. By supporting the Zoo's Emergency Zoo Fund, you are supporting the animals at the Zoo, in the wild, and all of our animal care professionals.