Zoo News Blog
Giant Armadillo Project Biologist Gabriel Trains the Next Generation of Wildlife Saving Heroes
Each year, 10 students from universities around the US are selected to spend a summer at the Houston Zoo in order to train, learn, and work alongside Zoo staff and regional conservation partners as part of the Zoo's Collegiate Conservation Program sponsored by ExxonMobil. For one week, Gabriel Massocato, a Brazilian Giant Armadillo Project Biologist and Houston Zoo conservation associate, took a break from his work in the field to lead the interns through activities and discussions tackling current field conservation topics such as monitoring techniques, properly engaging stakeholders, and addressing human/wildlife conflict.
Our Collegiate Conservation crew was excited to spend a week learning from the one and only Gabriel Massocato, a researcher for Brazil's Giant Armadillo and Giant Anteater conservation projects. Gabriel taught us about Brazil's Pantanal region, and how his project must work with the community to study the little-known giant armadillos. We learned the importance of giant armadillos as "ecosystem engineers," which means that they have a huge influence on the environment because they dig burrows which become safe places for many other animals to find shelter.
We trekked across the grounds of the Zoo as if we were in the wetlands of the Pantanal, relying on telemetry radio monitoring equipment to guide our way. In the field, this equipment would be used to track the GPS that is harnessed on giant armadillos and giant anteaters! We studied images from camera traps in the wild, giving us a peek at what Gabriel and his team look for as they study and discover more about the rare giant armadillo. We fully immersed ourselves in what it would be like to be part of the team in Brazil, even having the opportunity to schedule skype meetings with members of Gabriel's team. Throughout all of this, we learned the importance of communication in human/animal interactions.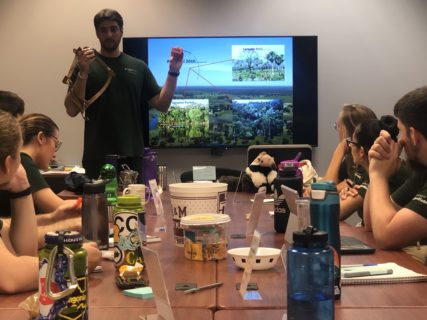 Gabriel's understanding of culture, extensive knowledge of conservation techniques, and friendly personality helped guide us in learning how to develop strategic communication plans, including how to converse with important stakeholders of the community whose support we need in order to save animals in the wild.
"I both dreaded and loved the stakeholder activity we did. I was really nervous because I didn't really know how to interact professionally with people who weren't biologists or educators. I had to talk with a donor and that definitely got me out of my comfort zone. Afterwards though, I felt really good about the activity and walked away with a type of knowledge that you don't get from being in a classroom all day."

                                                             ~ Zachary Ziebarth
We closed out the week by sharing our experiences with Zoo guests. This involved explaining how Gabriel and his team use camera traps to record wildlife in Brazil – bringing our tracking equipment out on grounds to demonstrate how the giant anteater project tracks the animals. We had live animal interpretation with animals of other Houston Zoo wildlife partners, showing that we work with many different groups beyond the giant armadillo and giant anteater projects. And finally, we had guests vote on a name for a recent addition to the giant anteater project – Selena the Giant Anteater! The smiles and amazement we witnessed from guests as we spoke about these incredible projects are lasting reminders of why we, the collegiate conservation interns, aspire to become the world's next leaders in saving wildlife.