We are pleased to announce the birth of a California sea lion! The pup was born to first-time mother, Kamia, on Tuesday, June 28 after a short labor. The pup and Kamia began to bond immediately, and nursing was spotted within hours. The sex of the pup has not yet been determined. The mother and pup will spend a while behind the scenes strengthening their bond before they are ready to make their first public appearance.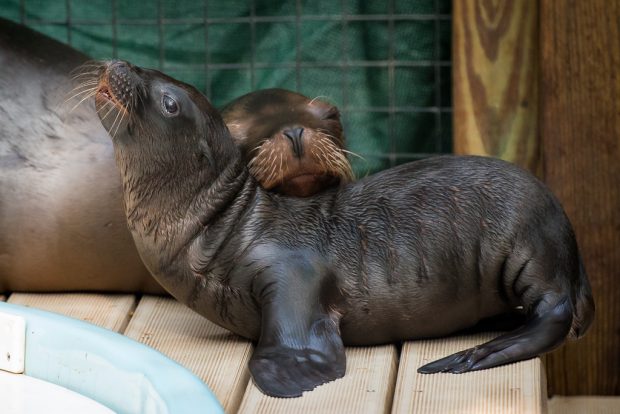 "The bonding between Kamia and her pup is going extremely well and the pup is healthy, very active and very curious," says Sophia Darling, supervisor of sea lions. "The pup loves exploring around the area!"
This birth is the first sea lion pup to be born at the Houston Zoo since 1994, and is the first offspring for both Kamia, and father Jonah.
The sea lions at the Houston Zoo play a major part in the zoo's Take Action conservation initiatives. As ambassadors for the sustainable seafood program, the sea lions help guests understand that the simple choices they make can have a big impact on animals. The zoo's sea lions eat 23,850 pounds of responsibly-caught, sustainable fish each year. Sustainable seafood is defined as seafood that is either responsibly wild-caught or farm-raised that not only keeps current populations of marine wildlife at balanced numbers, but ensures they thrive over the long term. The methods by which the seafood is harvested or raised must not cause undue harm to the ocean. The Houston Zoo strongly believes that embracing the use of sustainable seafood is one of the best ways we can all protect our oceans' health. Learn how you can Take Action!