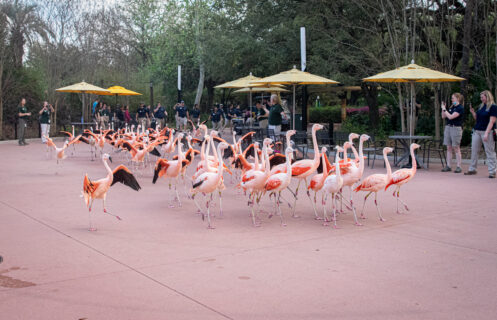 On the Move
How do you relocate a flamingo flock? With a lot of help! Approximately 70 people including roughly 20 volunteers, the entire Birds department, members of the primate and education teams along with horticulture and facilities staff members lined up from Flamingo Terrace past the Kathrine G. McGovern Texas Wetlands overlook and around Cypress Circle Café to create a 125-yard human barricade. This ensured the Houston Zoo's flock of 53 Chilean flamingos had a safe path to follow to their new temporary home. While the new sights and sounds certainly enriched the birds, they wasted no time reaching their new space which will be their home for the next two years.
Temporary Home
Where can we see the flamingos? The flamingo flock are easy to spot. They are inside Wortham World of Primates, across from the orangutans. The space was previously used as a babirusa exhibit. Modifications were made to specifically accommodate the flamingos' needs including improvements to the pool, secured the fencing, and brought in additional plants and greenery. The 53 flamingos are expected to stay in this space for approximately two years or until the upgrades to their original home are finalized.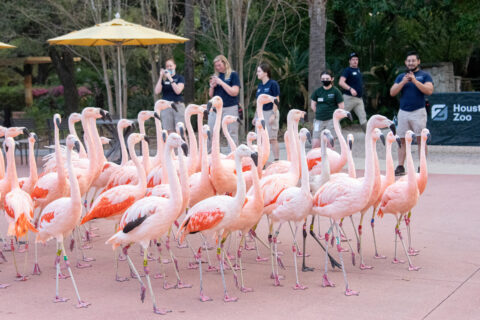 Exhibit Upgrades
What changes are being made to the flamingo exhibit? So many. For starters, it will be home to more than the flamingo flock. The Houston Zoo has one of the largest bird collections in any U.S. zoo with more than 200 species and 800 individual birds. The original flamingo exhibit is part of a bigger transformation—the state-of-the-art Birds of the World exhibit complex—and will become a walk-through aviary showcasing several bird species from around the globe. Stay tuned for more information on that project!