We love our Members. Their incredible support allows us to make a difference to animals both locally and all over the world. This month, we're spotlighting a family of Zoo Members that deserve recognition. We're thrilled to introduce you to February's Featured Members: the Costigan family.

---
We asked Sorcha Costigan to share a few words about what being a Zoo Member means to her. Here's what she had to say.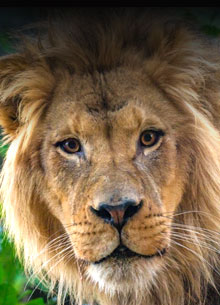 "My husband Quentin and I have been members since fall of last year, when we initially signed up for a small family membership.  We are both animal lovers and advocates, and we come to the zoo several times a year just to admire the critters and pet the goats. 🙂  My sister Rebekah and her husband Ryan moved home to Houston in June of this year, after living in Denver for 7 years.  They came home with my 2 year old nephew Rory and my 4 year old niece Ivy Anne in tow, who were born in Denver and loved the Denver Zoo, so we decided to go ahead and get the big family membership so we can all bring the kiddos to the Houston Zoo whenever we want (and when the weather cooperates!).  We took them for their first trip in September and got the family membership at that time.
We are proud to support the efforts of the zoo, and to teach Rory and Ivy Anne the importance of conservation and animal husbandry, as well as educating them about animals all over the world and how critical they are to OUR survival, as we are to theirs.  The residents at the zoo allow us to show them creatures from all over the globe; mammals birds, reptiles, and fish, and to see them in native environments. Our favorites are the cats – the big cats and the little ones!  Ivy Anne got to give a high five to a sleeping lioness through the viewing window, which was her favorite part of the entire day.  We hope to be able to participate in the program where you get to give the lions some water with a squirt bottle – that was the neatest thing ever!!  My sister and her husband are raising my niece and nephew to be caring and responsible contributing members of society, and the zoo helps us toward that goal.  Plus, we get to pet the goats (That's my favorite part, and yes, I'm a grown woman of 45 LOLOL!)!"
From all of us here at the Houston Zoo, we want to say thank you to the Costigans and all of our Zoo Members. As a Houston Zoo Member, your support truly makes an impact on the growth of our Zoo and conservation efforts. THANKS!