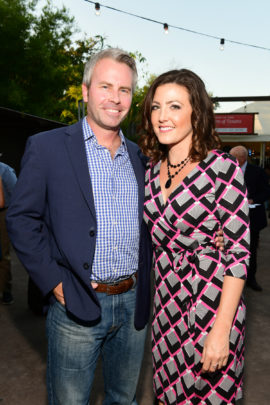 Thursday night, the Houston Zoo hosted its 11th annual Wildlife Conservation Gala in the zoo's Masihara Pavilion. This year's gala was dedicated to raising funds for saving animals right here in Texas, and the event collectively raised more than $750,000.
KPRC Meteorologist Justin Stapleton emceed the fall evening and spoke of his own connection to the zoo through last year's journey to Borneo where he got up-close to the Houston Zoo's efforts to save elephants in the wild. Texas Parks and Wildlife Department Executive Director Carter Smith was the evening's speaker. Carter regaled the crowd with tales of the natural history of Texas and spoke passionately about the work the Houston Zoo is doing to save native species like the Attwater's prairie chicken and Houston toad.
Nearly 600 guests dressed in their Texas chic attire dined on Texas favorites with a twist. A Gulf coast shrimp cocktail martini was followed by a main course of prime aged NY strip steak medallions with rosemary jus and crispy tobacco onions accompanied by King Ranch enchiladas with wild mushrooms and poblano. Dessert included Texas peach and blueberry crisp with whiskey hard sauce.
Photo credit, Daniel Ortiz for the Houston Zoo
Some of the evening's most vied for items included a stay for two at Cal-A-Vie Health Spa, four tickets to see George Strait at Houston Rodeo 2019 from a private suite, and Bats and Bubbly on the Bayou with Dr. Cullen Geiselman.
The evening under the Texas stars capped off with the Conservation Gala's first-ever After Party, chaired by sisters Elise Lubanko and Kaia Kessler, and featured a private concert by country artist Pat Green where guests two-stepped the night away.