Zoo News Blog
Collegiate Conservation Program Interns Clean Up Surfside Jetty
Written by Collegiate Conservation Program participants: Michelle and Maddie
The Houston Zoo Collegiate Conservation Program is a 10-week internship sponsored by ExxonMobil.  The Houston Zoo is committed to cultivating the next generation of conservation heroes.  This summer 12 interns were selected to train, learn, and work at the Houston Zoo and at regional conservation partners.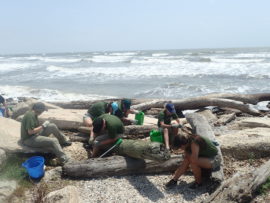 Michelle: On May 19th, to complete our first week of the ten-week Collegiate Conservation Program (CCP) Internship, we went to the Surfside Jetty. There, we contributed to the goal that the Sea Lion team at the Houston Zoo works towards on a monthly basis– cleaning the Jetty of its monofilament waste and making it safe for aquatic organisms.
Located on Galveston Island, the Surfside Jetty is regularly cleaned and yet houses an unbelievable amount of monofilament. Monofilament is thin plastic fiber that becomes easily entangled in rocks, aquatic animals, and aquatic ecosystems. Fishermen often use monofilament for catching fish – however, it is not always properly disposed of in the designated bins on the jetty. Often, people are unaware that despite its deceptively thin and small appearance, it can easily harm organisms. Monofilament was stuck between the rocks, preventing it from getting out to sea, but it was difficult to remove and could still affect the ecosystems right along the jetty.
Using pliers and trash pickers, we removed as much monofilament and other trash as we could. Various items were found, as common as water bottles that people use daily and as odd as a tire. To me, one of the most shocking and relevant realizations of this Surfside Jetty cleanup was that I recognized the brands of most of the trash we picked up. We saw waste from Whataburger, Dasani water bottles, McDonalds, and other familiar brands that we see on a daily basis.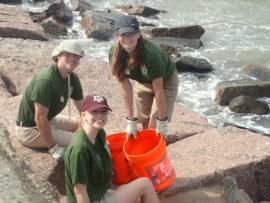 Often, we don't think about where this trash ends up until we're face to face with it. Our essentially mindless consumption of these products used to not even make me pause; now, I can't look at those logos without thinking of the Surfside Jetty.
Maddie: I found Jetty Project to be truly unique for both the large and tangible impact a few hours of work provided and the opportunity it afforded to interact with community members directly affected by our efforts. One of the most rewarding moments in my afternoon involved a local fisherman smiling silently as he took it upon himself to pick up various monofilament lines around his rocky perch and hand them over to be sorted. In that gesture I saw a mutual appreciation of each other's efforts: his to pull a sustainable harvest from the sea, and ours to keep that space healthy and available to fishermen and tourists alike.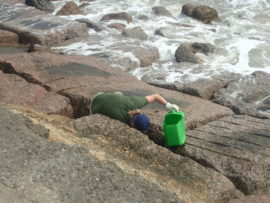 Besides the fulfillment that came from sharing our conservation message with a target community, I enjoyed learning myself. Waste is far too easily flushed away and forgotten by the average American, myself included. Coming face to face with the garbage in our gulf forced a change of perspective. After balancing on my hips with two hands and a torso down between bug infested and tidally turbulent rocks, reaching for a single piece of monofilament, I grew a distinct appreciation for recycling. In fact, I have not purposefully used a straw (unless it came in my drink) since that day. That marks nearly a month of visions of micro-plastic popping up every time I eat out!
Ultimately, it is the changes seen in ourselves and others that makes any endeavor worthwhile. The Jetty Project enables such development by bridging the gap between wildlife and coastal communities.