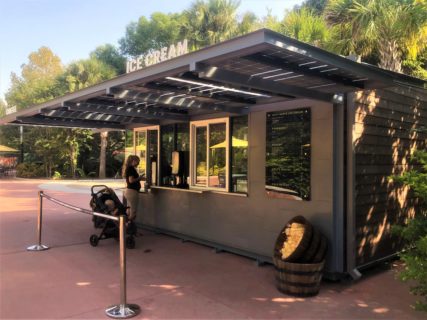 The Houston Zoo is constructing buildings that help reduce threats to animals in the wild.
Two of our Design & Engineering Project Managers, Trisha Crowe and Florence Tang, recently finished a project to replace two old buildings on campus with greener structures. We now have a new ticket kiosk and a new food kiosk near the heart of the Zoo, the Kathrine G. McGovern Texas Wetlands, that are greener versions of the buildings they replaced. These small buildings are an example of how the Houston Zoo is increasing its sustainable operations, helping to save animals in the wild. These buildings were designed with recycled and reused materials and feature green roofs with native prairie wildflowers to provide a habitat for pollinators like butterflies and bees. In order to decrease the need for electricity, the buildings were designed with big windows to let natural light inside. The new food kiosk also has solar panels on the roof so we can use the sun to power the air conditioning inside!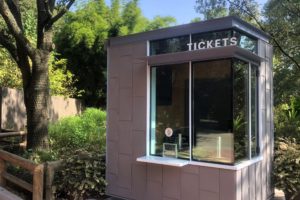 Another way the Houston Zoo is protecting wildlife through the built environment is by retrofitting building windows on campus with bird-safe protective film that deter bird strikes. Window reflections can be deceptive to birds, making it difficult for them to distinguish between windows and the open sky. Window decals and film decrease reflections and help keep birds safe. At the Houston Zoo, we recognize that protecting the natural world is a collective task and we look for every opportunity to increase our impact and effectiveness. These buildings are another example of how we are doing the work to help save animals in the wild!