Written by Kimberly Sharkey

---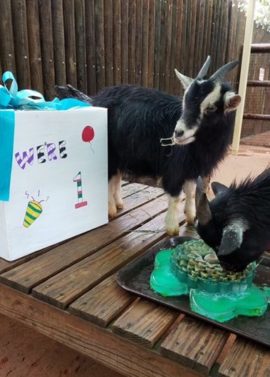 Our twin goat boys just turned 1!
Seamus and Finnegan are West African Pygmy goats that came to the Zoo at just two days old. They soon joined the rest of the herd, where they are now a guest favorite. The Children's Zoo team decided to give them proper Irish names since their birthday was so close to St. Patrick's Day.  On Sunday March 7th, we threw them a birthday party didn't let the rain dampen the festivities. 
Zoo guests joined in on the celebration and sang them Happy Birthday while the boys enjoyed their cake and presents. One lucky girl that shares a birthday with the goats got a chance for a memorable moment and posed for birthday photos with them! The boys loved the attention and we look forward to celebrating many more birthdays with them in the future.  Stop by the John P. McGovern Children's Zoo on your next visit to wish the boys a happy birthday!