Zoo News Blog
Be An Ocean Hero – Sea Lion Spotlight on Species & Member Morning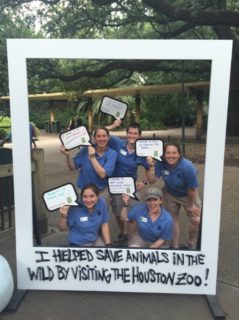 Have you ever walked on the beach or jetty and wondered where all the trash comes from? Was it left from the last person that visited? Was it blown off a boat? Or maybe from the last storm that came through the area?
Many people don't realize that a lot of our trash that gets thrown away, even when done so responsibly, can end up in the oceans. Trash can get washed or blown out of landfills and into waterways that eventually make their way into oceans all over the world. What can we do to help keep our ocean's clean?
Our love for wildlife isn't limited to animals at the Houston Zoo. The sea lion team has committed to help a local jetty stay clean.
The Surfside Jetty is a conservation project right in our own backyard, started in 2014 by the Houston Zoo sea lion team. Each month, the sea lion team manages a jetty clean up at Surfside Beach, Texas. With the help of other staff members and volunteers, we have collected approximately 388 pounds of fishing line (monofilament), 1,909 pounds of recyclables, and 3,673 pounds of trash! We are hoping to see this project grow and involve more of the local community…stay tuned!
To help bring awareness to the community and how you can help preserve the wildlife and oceans, the sea lion team is hosting a Spotlight on Species event. During the event, you can learn about aquatic trash and how to help keep our marine environments clean not only for us, but for marine life too. Any donations received at the sea lion Spotlight on Species event will be designated for this local conservation effort and help provide supplies and tools to keep our beaches clean and wildlife healthy.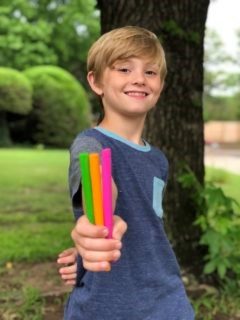 Did you know you can recycle certain batteries or toothbrushes? Or, make a bird feeder out of a plastic water bottle? At the Spotlight on Species event, the sea lion team will not only tell stories about their time cleaning at the Surfside Jetty, but also give fun and helpful tips about how we can help reduce the amount of trash that goes into the landfills. Grayson Hawkins, the 8-year old nephew of sea lion team member, Heather Crane, is the founder of Your Fabulous Reusable Straw Company and will be at the event to share his message on using reusable straws and how you can help make a difference!
By visiting the Houston Zoo, YOU are helping to save animals in the wild, and making memories that will last a lifetime.
Come to the Zoo on Saturday, May 4th from 8:00-11:30, and learn more about ways you can become an ocean hero!
On behalf of our sea lions here at the Houston Zoo, as well as ALL their marine animal counterparts in the wild…we hope to see you there!