We love our Members. Their incredible support allows us to make a difference to animals both locally and all over the world. This month, we're spotlighting a family of Zoo Members that deserve recognition. We're thrilled to introduce you to August's Featured Members: The Marcotte Family
---
We asked the Marcotte's to share a few words about what being a Zoo Member means to them. Here's what they had to say.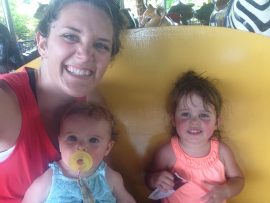 "We've had our membership for just under a year, but I can already say with confidence that it is the best gift we have ever received.  As a stay-at-home mom, I have lots of opportunities to come during the week with my two girls, Jenna (2 1/2) and Juliette (8 months).  We also frequently come as a family on the weekends, and my husband, Jacob, loves to take the girls on his own for special daddy/daughter dates.  It's the perfect setting because there are so many places for the girls to explore, play, and learn.  To me, a membership means a relaxed and truly enjoyable visit to the zoo.  There's no pressure to see every exhibit or push my two littles to exhaustion because we can always come back the next day.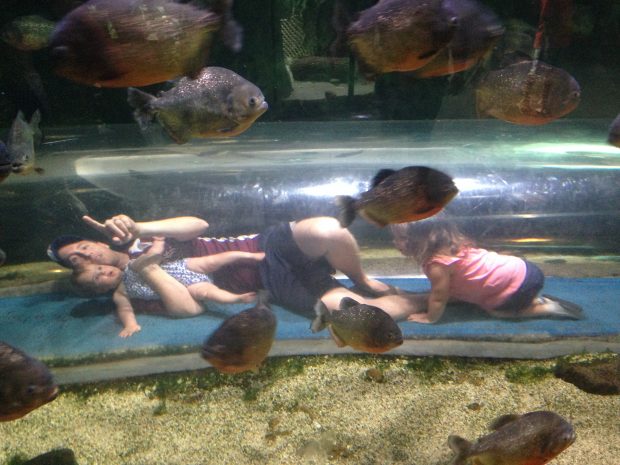 The layout of the zoo is so family friendly.  All of the exhibits are enjoyable and accessible for grown-ups and toddlers alike.  Our favorite spots to visit right now are the sea lions, big cats, Children's Zoo, Natural Encounters building, and Tropical Bird house…to name a few! 🙂  We can (and do!) spend entire mornings crawling through the fish tunnel, tip-toeing across the "bird bridge," and sliding down the otter waterfall.  I especially love all of the shade and indoor exhibits for those hot summer months!
Of course, our favorite zoo feature right now is the "DINOSAURS!" exhibit!  It is a constant topic of conversation in our house and an absolute must-see.  The way the dinosaurs move and roar is really incredible.  All of us wanted to go through again and again, and the girls left sporting a bracelet of their new favorite dinosaur, the T-Rex!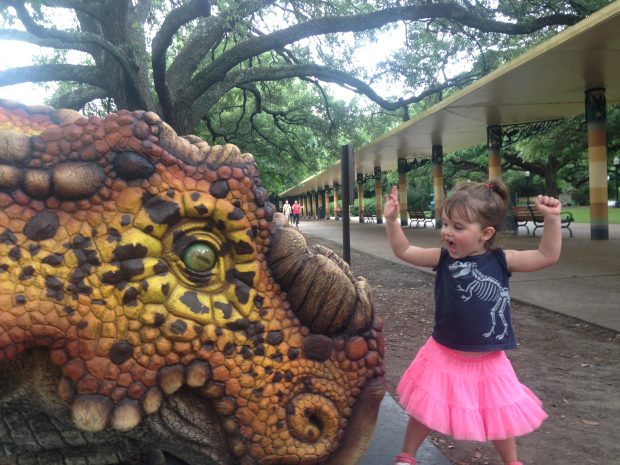 Mostly, I love all of the different special events the zoo has throughout the year.  For Easter, the girls and I loved watching the lions and chimpanzees discovering treats inside large papier-mache eggs.  Jenna talked for weeks about the chimpanzees eating strawberries, just like her.  The Cool Nights events are also really wonderful!  The different themes are so fun, and it's been a really special way for us to unwind and spend time as a family at the end of each week.
Thank you, Houston Zoo for designing such a wonderful place for families to learn and enjoy!"
---
From all of us here at the Houston Zoo, we want to say thank you to the Marcotte's and all of our Zoo Members. As a Houston Zoo Member, your support truly makes an impact on the growth of our Zoo and conservation efforts. THANKS!