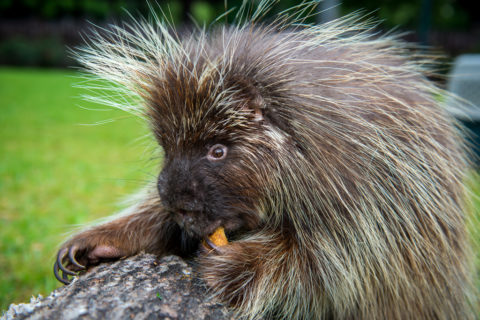 Calling all last-minute shoppers and decorators! We have some tips and tricks on how your actions this holiday season can help save animals in the wild.
Holiday Decorations
Still need to put up your Christmas tree? Consider buying a real Christmas tree! Real Christmas trees are better for the environment and help support sustainable forestry services. Buying real trees keeps tree farms in business and in turn keeps their lands covered in healthy forest habitat that wildlife depend on to survive, like our ambassador animal Ernie the porcupine! Out of the 350-500 million trees growing on tree farms across the United States, only 30 million are harvested for Christmas each year. For every tree purchased, farmers plant 1-3 seedlings in its place according to the National Christmas Tree Association.
And better yet, once the holiday season is over, real trees can be given a second life through composting and recycling, keeping them out of landfills. Help keep Christmas trees out of landfills and save habitat in the wild for animals like our friend Ernie and buy a real Christmas tree this season.
Gift Giving
Buy experiences instead of items – buying less stuff means more natural resources for wildlife. Socially distant experience ideas include massages, virtual cooking classes, nature excursions, park memberships, virtual concerts, virtual photography or language lessons.
Buy locally-made items – local goods mean your gift didn't have to travel very far, helping keep our air clean and safe for humans and wildlife. Visit a local art market to find unique, local gifts for your friends and family.
Buy products that are made from sustainable material – using more sustainably-sourced material to create the products we use means more habitat for wildlife to enjoy. There are lots of brands out there that source their products from sustainable material (e.g. Rothys, Allbirds, Patagonia, Bureo). View this shopping guide to get some ideas on sustainable products.
Buy items marked as Fair Trade – Fair Trade products have long-term positive impacts on the livelihoods of producers, communities, and the planet. Products made under the Fair Trade standard help keep the planet healthy for many of the animals you can see at the Houston Zoo!
Buy gifts from the Houston Zoo! When you shop for gifts this season, make the Houston Zoo your first stop. You can gift your friends and family zoo memberships, one-of-a-kind art created by our animals, adopt-an-animal certificates, animal encounters, and much more! View our Holiday Gift Guide. When you buy gifts from the Houston Zoo, you are helping fund conservation efforts locally and around the world that help save animals in the wild!