Zoo News Blog
A Recap of Zoo Crew's Galápagos International Adventure Program
Written by: Adaline Thompson, Akhil Baker, Andres Bass, Ava Zhou, Callie Conkle, Dominica Bruni, Elena Ariston Montoya, Emily Scull, Emma Murray, Jordan Schrenk, Joshua Mazari, Lea Farah, Nico Ziegler, and Samuel Geetan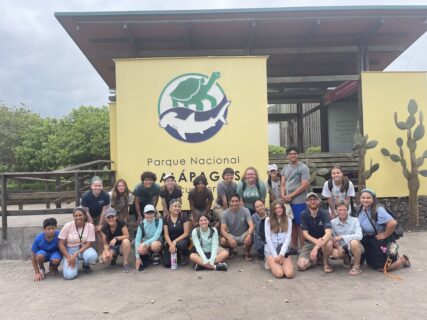 This trip to the Galápagos brought us significantly closer to the conservation efforts on the Islands, and across the globe. ECOS opened our eyes to all the wonderful initiatives being led by young people like us. On this trip, we became deeply aware of the impact the Houston Zoo has on conservation efforts in the Galápagos. All the support we give in Houston allows for amazing programs like ECOS to continue to protect the endemic species of the Galápagos. We are all so excited to share all of the knowledge we acquired on this trip with guests and other Zoo Crew.
We started the trip by camping in the lush highlands where we participated in giant tortoise monitoring. We were able to help the national park rangers by collecting data about the tortoises, and we were lucky enough to find four new tortoises for the park to monitor.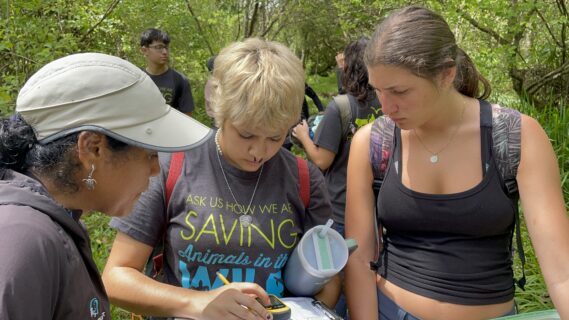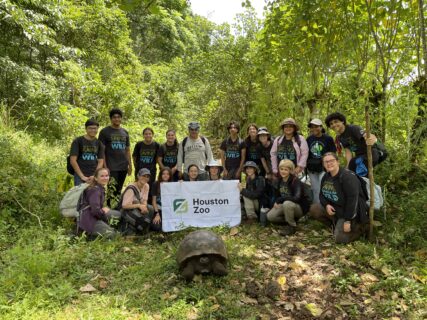 We also had breakout sessions where we broke into small groups and learned about conservation topics, which we taught to each other in funny skits. We all had a lot of fun presenting the information in memorable ways.
After two days in the highlands, we packed up and took the bus to Puerto Ayora. There, we took the long hike down to Tortuga Bay. Some of the Molas club members met us there to teach us how they do microplastic surveys. In 4 groups, we each sifted through a square foot of sand to find all of the pieces buried within.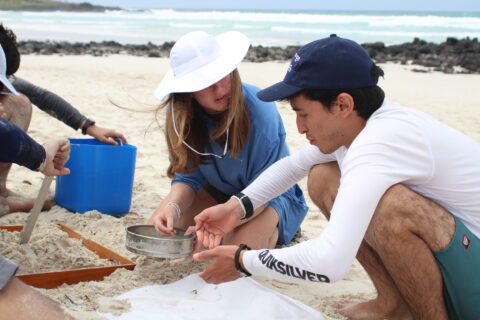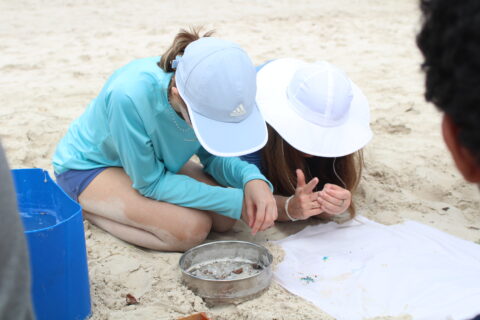 We found hundreds of plastic fragments, nurdles (raw plastic), fibers, and other trash. We learned about accumulation beaches and how foreign trash travels through the Earth's shared ocean to pile along the beautiful shores of the Galápagos Islands. Through these lessons, we now have first-hand experience at what single use plastics and over-consumption can do to our environments. Later on, we went to the Charles Darwin Research Center to meet with a few members of the Molas and Tibu eco-clubs and did a scavenger hunt with them. Afterwards, each group (Molas, Tibus, and Zoo Crew) shared and explained their conservation efforts, allowing us to see how we all have a common goal of preserving nature and wildlife despite living so far away.
The next morning, we hopped on a boat to Isabela Island. The second we set our eyes on our first Galápagos sea lion, we knew that the next few days were going to be magical. The first day on the island, three adorable Galápagos penguins greeted us during our walk through the mangroves to the bay. Once we made it to the water, we stood silently, amazed, admiring the wildlife all around us, including sea lions, penguins, pelicans, blue-footed boobies, rays, sea turtles, and many different fish. Our next adventure was a kayak trip in the ocean which was one of our favorite activities from the whole trip. Paddling through the water, we were joined by penguins and friendly sea lions showing off their swimming capabilities. After arriving back at shore, we headed to a beautiful cove, Concha de Perla, filled with lots of marine life. While snorkeling, we saw sea lions, parrot fish, blowfish, starfish, and sea urchins. Many of us marked this as our favorite day, because we had so many moments of awe and gratitude. Experiences like the ones on Isabela Island really made this an unforgettable experience.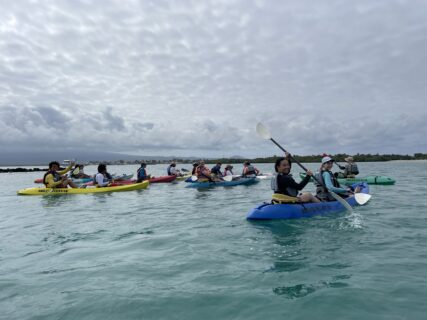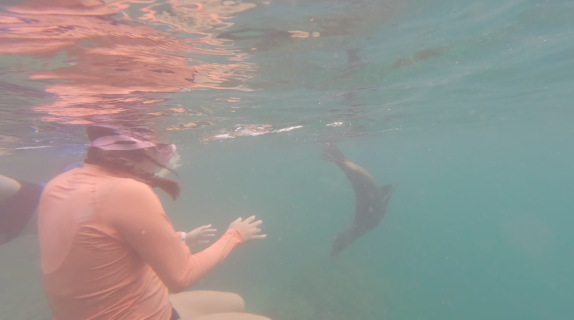 Something that stood out to us was the amount of plastic found on the beach. We found it interesting that, though there are so many protections in place, trash is still commonly found across the island. As a group, we all collectively decided to pick up any and all trash that was seen along the coast without any instruction to do so. What impacted us the most was the realization that most of the debris was foreign, and our actions back in the States affect the Galápagos more directly than we had previously understood. At the zoo, the main message of the Galápagos exhibit is the concept of a shared ocean. This was defined with more clarity and impact than we were prepared for as we pulled plastic bags, fishing line, and plastic bottles from the rocks of paradise.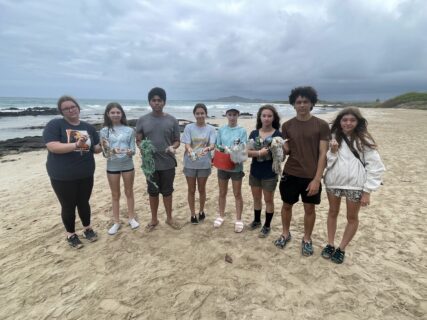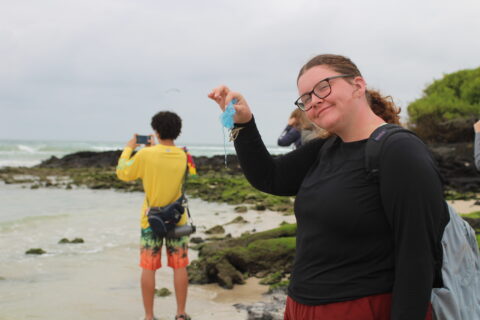 We took a speed boat back to Puerto Ayora for our final day on the Islands. We returned to the Charles Darwin Research Center to meet with wildlife biologist and conservation hero, Freddy Cabrera. He told us his story of growing up in a rural area in Galápagos that would see tortoises for a part of the year, but would disappear for the other part. This sparked his curiosity and passion and led him to an amazing career of research and saving tortoises in the wild. He learned that tortoises would go to the lowlands, where it was dry, during their nesting season. When they "disappeared," they were going back to the highlands to enjoy the wet weather that they thrive in. Freddy answered all of our questions about tortoises and life as a field researcher, and he told us about the research he has done on migration and nesting that has led to more successful breeding seasons and more stable tortoise populations. Hearing from someone who has dedicated his life to saving this amazing species has put what we have learned from the Houston Zoo into a broader, more meaningful perspective.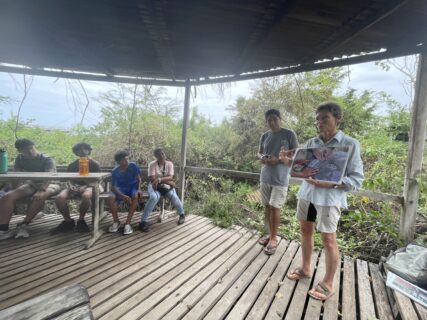 This trip has put new definitions to conservation that we will carry with us for the rest of our lives. Though we spent so much of our time experiencing the moment in front of us, we would never have gotten the experience we received without the amazing people supporting us and guiding us along the way. Our first thanks goes to our Galápagos teen volunteer counterparts, the Molas and the Tibus. Despite the language barrier, they were always enthusiastic and loved to share their knowledge and experiences with us especially during their city tour.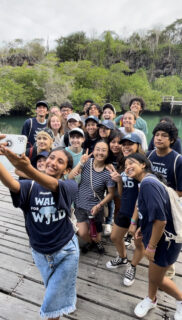 Thank you to Nelly and Astrid, our tour guides, who interpreted our hikes through nature and made sure we didn't miss anything. Thank you to Anne, Patrick, and Freddy from the Charles Darwin Research Center for teaching us all about their work with the tortoises and an additional thanks to Anne for explaining how the micro plastics affect the Galápagos and what we at home can do to help. A huge thank you to our ECOS leaders Lady and Micaela for organizing everything, guiding us, taking care of us, teaching us, and making sure we had an amazing time. Lastly but most definitely not least a big thank you to our amazing education staff Colleen and Stephanie. They fostered our passion for wildlife and experiencing the Galápagos with them made it the trip of a lifetime.
---
Favorite Photos
The Zoo Crew each chose their favorite photo they took from the trip. Below are their photos and their reasons why they chose it as their favorite:
Nico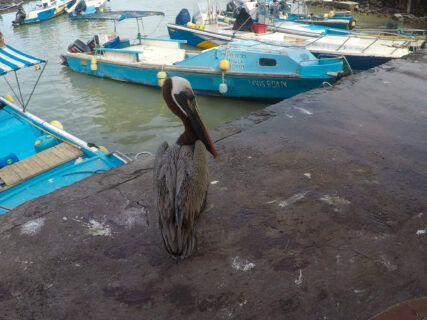 Ava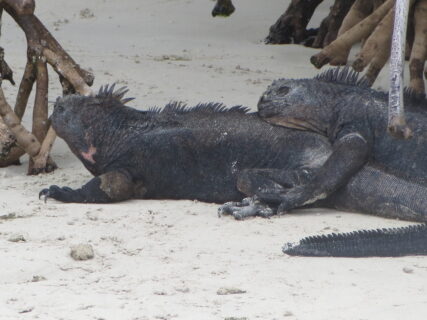 Andres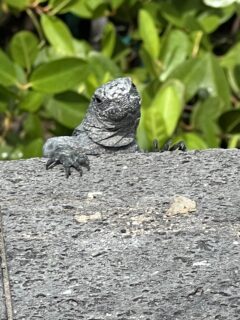 Akhil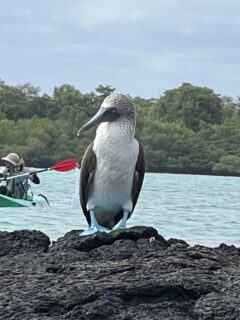 Dominica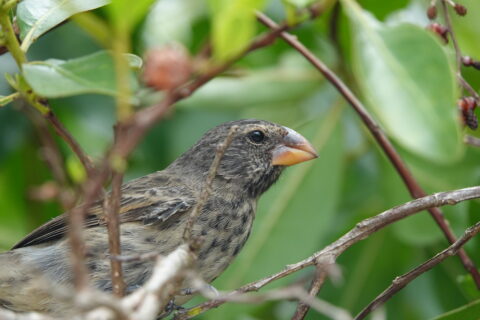 Emily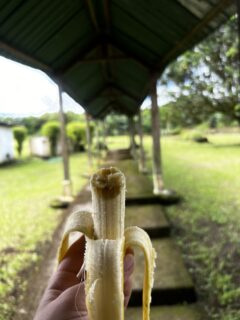 Lea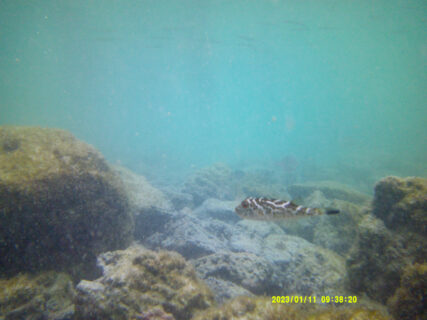 Jordan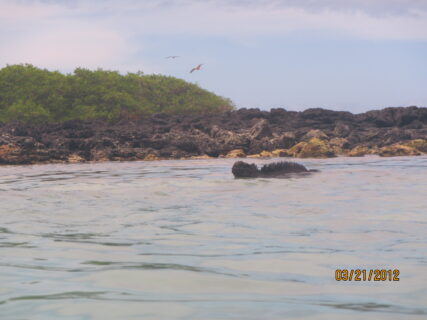 Adaline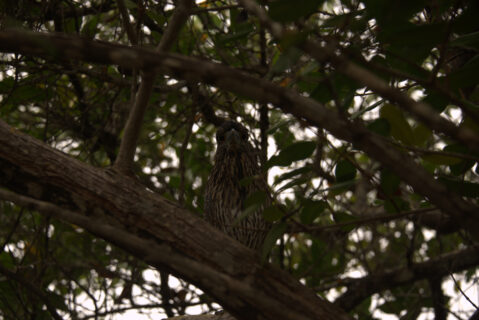 Elena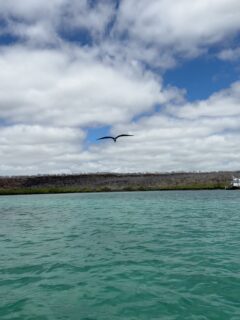 Callie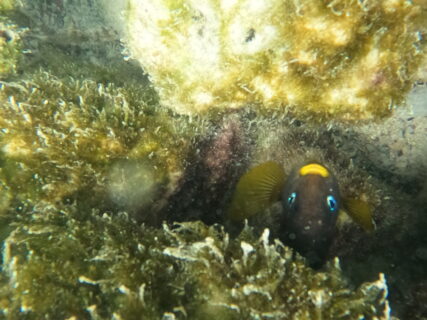 Josh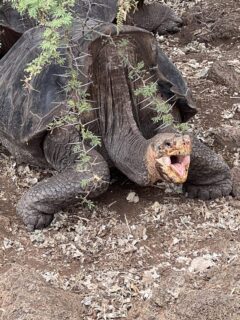 Samuel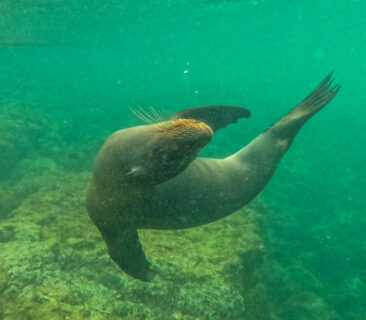 Em