Here at the Zoo, spring is in the air! On your next visit, put a spring in your step and enjoy our new Houston Methodist Walking Path. This brisk one-mile path is the best way to stay fit while you visit our beloved animals, and it's all thanks to Houston Methodist.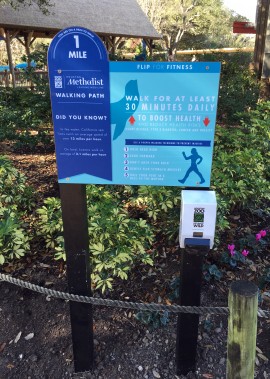 As a new Corporate Partner of the Houston Zoo, Houston Methodist is committed to keeping our city happy and healthy by encouraging guests to make smart life choices when it comes to exercise and a balanced diet. We take great pride in the activities and diet provided for our animals, and it is important that our guests also exercise and make healthy choices. We've partnered with Houston Methodist to ensure a healthy 2016 for all of our zoo guests, staff, and our animals with the new Houston Methodist Walking Path.
There are six Houston Methodist Walking Path signs located throughout the zoo, and they are marked on the Visitor's Guide and the new Houston Zoo app, available for your smartphone. We encourage you to enjoy the new walking path on your next visit and to learn more about how our animals stay healthy, and how we can make healthy choices every day in our lives as well.