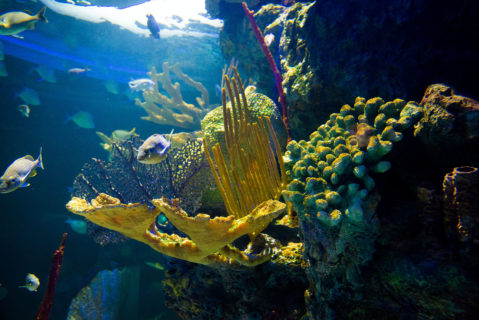 Kipp Aquarium will close to the public in spring 2020 to make room for a brand-new entry plaza experience that will welcome guests into the Galapagos Islands when that area opens in 2022.
As we continue our march toward our 100th anniversary celebration in 2022, the Houston Zoo will celebrate by completing the most dramatic transformation in its history. We aim to redefine what a zoo can be with beautiful and immersive habitats, compelling guest experiences, and an unyielding commitment to saving wildlife. 
To create these new spaces, the Zoo is undergoing a massive construction project which will temporarily shift pathways, close buildings and move some animals to new habitats. During this process, the Zoo is working diligently to minimize impacts, while continuing to maintain the best experience possible for both guests and our resident animals. 
While our Houston Zoo will no longer have a stand-alone aquarium, we will still feature many aquatic animals and habitats throughout the Zoo. South America's Pantanal will be home to South American fish, and the Galapagos Islands will be a state-of-the-art showcase for sea lions, sharks, rays, sea turtles and a wide variety of other marine fish and invertebrates. Additionally, we will continue to have aquariums in Natural Encounters and will look to add other aquatic species in future phases of our long-range Master Plan. The Kipp Aquarium has served the Zoo for nearly 40 years, and the experience gained by the teams that have cared for its infrastructure and inhabitants will help our future developments achieve new levels of excellence for guest experience, conservation relevance, and animal welfare. Stay tuned for more construction updates.