We love our Members. Their incredible support allows us to make a difference to animals both locally and all over the world. This month, we're spotlighting a Zoo Member that deserves recognition. We're thrilled to introduce you to January's Featured Member: Suzanne Kieffer.

---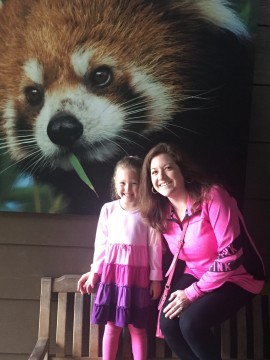 We asked Suzanne to share a few words about what being a Zoo Member means to her. Here's what she had to say.
"While I have been a frequent zoo visitor since moving to Houston in 1996, I became a member about 5 years ago after my daughter was born.  She and I are so at home at the zoo and it has always been a wonderful place for us to play, learn, and make memories.  I love the lush landscaping, friendly staff, and of course, the animals!
I am a regular participant and big fan of zoo yoga.  It is such a unique and fun parent-child experience, with a different featured set of animals each time. The instructors lead us through delightful animal poses consistent with the theme of the class, followed by a "meet and greet" with one of the zoo's animals, such as a Flemish rabbit, and armadillo, or a porcupine.  Then the class heads off to the zoo grounds to exhibits related to the class.  It is quite an enjoyable and educational morning!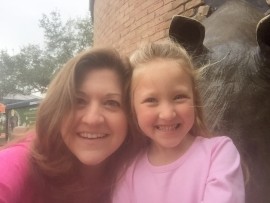 And, my daughter hates to leave the zoo without stopping by the tropical bird house, the red panda, and the jellyfish; riding the carousel; lunching by the giraffes at Twiga Cafe; crawling through the tube surrounded by piranhas; and trying to take a selfie with the meerkats!  And Zoo Boo and Zoo Lights are holiday favorites for us.
My frequent zoo visits and participation in special zoo activities make my zoo membership a must!  I look forward to continuing to get to know the zoo and all it has to offer!"
From all of us here at the Houston Zoo, we want to say thank you to Suzanne and all of our Zoo Members. As a Houston Zoo Member, your support truly makes an impact on the growth of our Zoo and conservation efforts. THANKS!