Zoo News Blog
14 Kemp's Ridley Sea Turtles Released into the Wild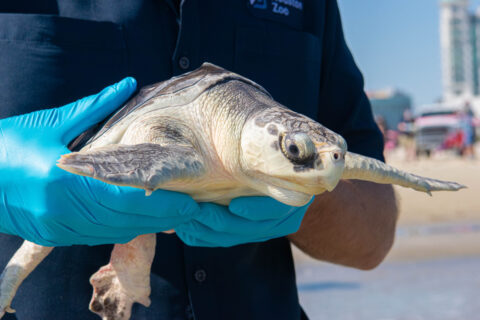 As many closed out their Spring Break with a trip to the beach, the Houston Zoo was helping save wild sea turtles back-to-back weekends. On Saturday, March 20, the Zoo released 14 Kemp's ridley sea turtles—which are the smallest and most endangered sea turtle species—into the Gulf of Mexico at Stewart Beach in Galveston. These turtles were part of the sea turtle rescue flight from December 2020, where 120 sea turtles were flown to Texas after being found cold stunned (when water temperatures drop rapidly, become lethargic and unable to swim due to the cold) they in Cape Cod, Massachusetts.
"The release of these sea turtles was the culmination of many weeks of hard work by our Houston Zoo staff to make sure the animals were rehabilitated, strong and ready to go back to their home in the ocean," said Lisa Marie Avendano, vice president of animal operations at the Houston Zoo and conservation liaison for Texas Conservation Programs. "It really is a shared ocean and we were so grateful to be able to support the sea turtle community in New England when they needed help with the large cold stunning event."
Over the past few months, these turtles received expert treatment and care by our veterinarian staff before being cleared to be released back into the wild. Their treatment included physical exams, antibiotics, bloodwork, and X-rays. We still have three Kemp's ridleys being cared for that are recovering from fungal pneumonia before they are cleared to be released back into the wild.
In addition, six other sea turtles were also released that day by our partners at Texas A&M University at Galveston's Gulf Center for Sea Turtle Research, as well as from SEA LIFE Aquarium in Grapevine, Texas. The Zoo's veterinary team oversaw the treatment of the turtles being cared for at Texas A&M in Galveston. 
People are urged to call 1-866-TURTLE-5 if they find or accidentally catch a sea turtle so that an expert can assess the turtle and provide care if needed.  
"This sea turtle release is a perfect example of how the Zoo lives its mission of saving animals in the wild," said Renee Bumpus, senior director of wildlife conservations programs at the Houston Zoo. "Visiting the Zoo helps us save more wildlife! Every admission, membership, and donation for the Zoo is helping our critical work to protect wild animals. Visitors, members, donors, board members, volunteers, and staff members are all strengthening the Zoo's ability to save animals from extinction."