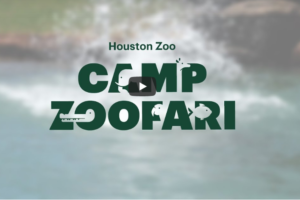 Camp Zoofari is an immersive experience for children ages 4-14. Campers explore the Houston Zoo, meet ambassador animals, and make new friends while learning about animals and how to save them in the wild.
Summer 2020 camp is offered as week-long experiences built around different themes. Activities and interactions are tailored to your camper's age. Each topic will offer different experiences and opportunities.
View the policies, camps, additional information, and FAQ listed below.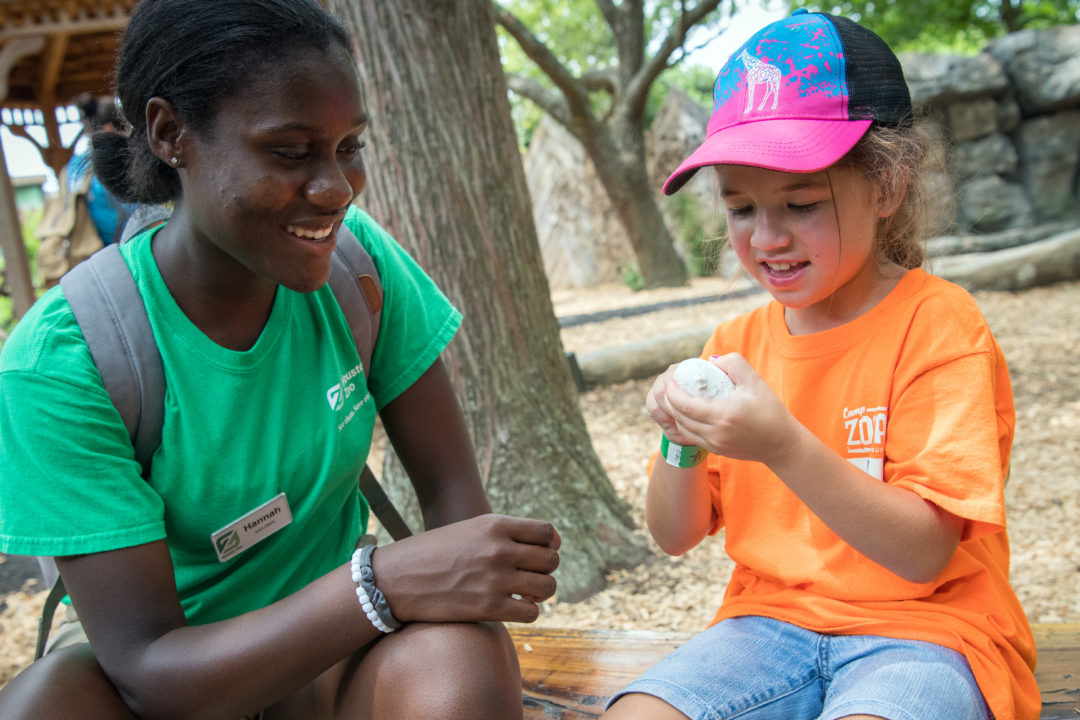 Registration Dates
Each registration window will open at 8:00 a.m. Registration access is based on Zoo membership levels.
Jan. 27-Feb. 2: Asante
Feb. 3-9: Flock and Friends & Family Premium
Feb. 10-23: All other Zoo membership levels
Feb. 24: Open to the public
To become a member or to renew, visit our Membership page.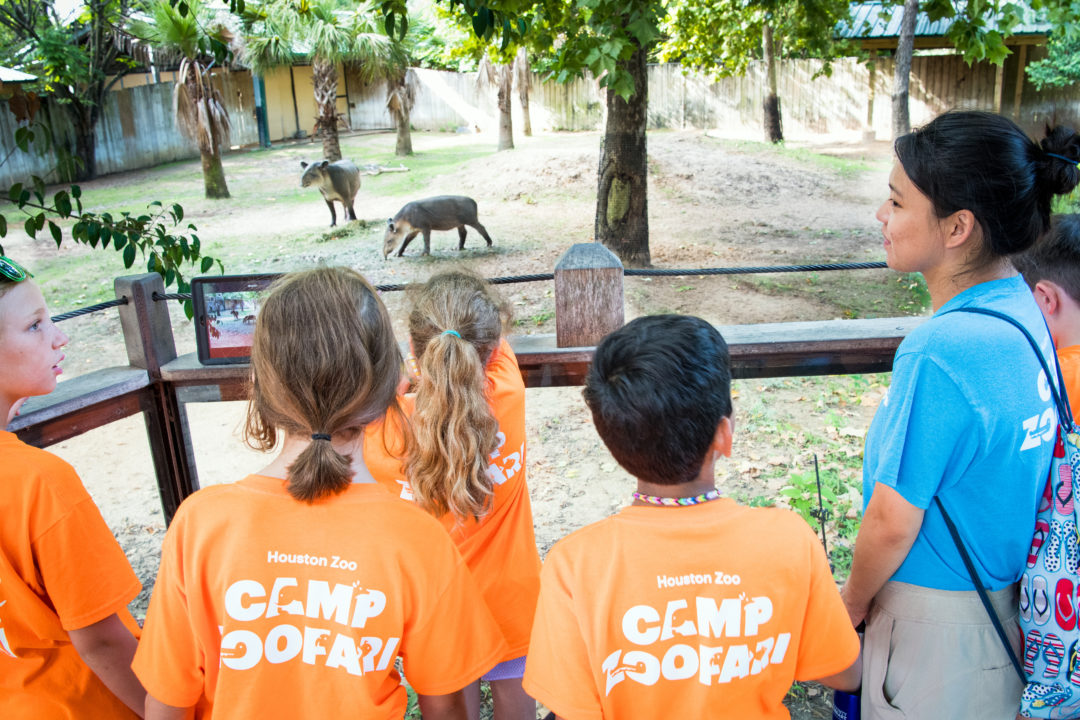 Summer 2020 Camp Hours
Monday-Friday, June 1-Aug. 13
Camp Hours 4-year-old: 9:00-1:45
Camp Hours 5-14-year-old: 9:00-4:00
Camp Check-In: 8:45-9:15
Before Camp Program Check-In: 7:30-7:45
Camp Check-Out 4-year-old: 1:45-2:00
Camp Check-Out 5-14-year-old: 3:45-4:15
Pricing varies based on the length of the camp week, camper age, and experiences offered. See individual topics for details.
Camp Zoofari Policies
Cancellations
Due to the high demand for camp spaces, all sales are considered final. Patrons who provide a written notice of cancellation to education@houstonzoo.org on or before May 1 will receive a 50% refund of their camp registration fees. No refunds will be issued after this date, including participants who miss all or partial programs due to illness.  Before/after-care fees and shirt purchases are not refundable.
The Houston Zoo reserves the right to cancel any program due to minimum enrollment, inclement weather or unforeseen circumstances, in which case a full refund will be issued.  Cancellations are official upon receipt of confirmation from the Houston Zoo.
Rescheduling and Transfers
There will be a rescheduling fee of $35 per camper per topic or date change. Requests must be made in writing to education@houstonzoo.org. Rescheduling to another date is subject to availability. Once a camp sells out, we are not able to add any campers to it.
This year we will also offer the ability to transfer a registration from one camper to another for $75 per camper. The other camper must be able to attend the exact same camp (same age group, theme and week). Transfers are subject to availability.
Rescheduling fee: $35
Transfer fee: $75
Before Camp Program
Before Camp programming is offered as an add-on to the camp day for $75 per week. This is not an open drop-off program. The Before Camp program includes a tour of the Zoo before it opens and is delivered on Zoo grounds. Gate 8 is open for a 15-minute window from 7:30-7:45. This is different than the regular camp registration, which is a 30-minute window.
If you arrive after 7:45 a.m. every attempt will be made to get your camper checked in as quickly as possible. As all present staff are scheduled to deliver the Before Camp program, this might take some time. We appreciate your patience.
Cost: $75 per week
Camper Pick-Up Lane
This option is for those caregivers who would like the convenience of not having to park their vehicle to come inside and pick up their camper(s). This process can take as long as regular sign out as we still need to verify identification. For camper safety, they cannot leave the Zoo until we have verified ID. This service is limited to 25 cars each week. Each car may have as many campers as you wish. Within the pick-up lane, there is only space for 5 vehicles at a time and it is monitored by City of Houston Police Officers to ensure safety.
Cost: $75 per week per car.
Emergency Contacts and Authorized Individuals
If you are the parent/guardian of the camper and plan to pick up your child every day, you will need to list your name in the emergency contact section when registering. If you are not picking up your child, add all those approved to pick up your child, in addition to yourself, in the emergency contacts of your registration. Please provide the person's full, legal name on their photo identification and not their nickname. The name on the roster must match the exact spelling and name on the photo ID. If you're not sure who will be picking up your child daily, you will have the opportunity to include additional names on the pickup list when you drop off your camper each day. For the safety of your camper, this policy will be followed to ensure no unauthorized individuals try to remove your camper from Camp Zoofari.
Photo Identification and Sign-In/Out
For the safety and protection of campers, we require a photo ID (name and photo BOTH on a plastic printed card, i.e. driver's license, school ID, credit card w/ photo, work ID, or passport) presented to the camp guide when signing your child out at the end of the day.  The name printed on the ID must match the name on the roster.  For safety reasons, our staff are not allowed to make assumptions about nicknames.  This procedure will occur every day, every time you pick up your camper. If you forget your identification in your vehicle, you will be asked to retrieve your ID before you can sign your camper out. For the safety of our campers, there are NO exceptions to this policy and we ask that you assist us in making check-out safe and seamless by carrying your ID at all times and passing this information along to anyone approved by you to pick up your camper. Thank you for your cooperation in ensuring Camp Zoofari is a safe and secure experience.
Campers not picked up by 4:15 will be charged $10 for the first ten minutes and $5 a minute after that.
Cell Phone-Free Policy
Camp Zoofari is a high-energy experience filled with fun, interactive activities. We want your child to enjoy their experience connecting to nature and wildlife so we ask you to please refrain from sending your child to camp with a cell phone.
If you need to speak with your child during camp hours, please call our Education Office at 713-533-6739. We will be happy to have your child speak with you.  Should a situation arise at camp in which your child needs to speak with you, or you need to be notified of a concern regarding your child such as an illness, we will contact you using the emergency contact information you provided. On Monday morning, please check your child's roster to verify the emergency contact information provided during registration is correct.  Please be sure to provide us with a phone number that will be answered during the camp day.
Should you choose to allow your camper to have a phone, we will require that it remain in the camp storage cubbies if it becomes a disruption.
Camper Requirements
Our camp program is designed for children who can remain in a group setting without parental involvement. In addition to age requirements, campers must be:
Potty-trained
Able to use public restrooms without assistance
Able to spend at least 4.5 hours of the camp day outside (60% or more of the camp day), walking around the Zoo
We are happy to accommodate campers with sensory processing challenges or special needs as long as they do not interfere with the health and safety of other campers or the animals in our care.  Please contact our offices before registering to discuss any needs your camper may have to determine if Camp Zoofari is right for your camper.
Age 4 Camp
For 4-year-olds:
Have you ever wondered how a cheetah got its spots? How an elephant grew such a long trunk? Join us on a trip as we explore the animal kingdom through song and story. Of course, we'll also visit the real-life characters and learn awesome facts about these storybook superstars.
Full-Week Cost: $300
4-Day Week Cost: $240
9:00 a.m.-1:45 p.m.
June 1-5
June 15-19
June 29- July 2 (4-day week)
July 13-17
July 27-31 Sold Out
For 4-year-olds:
With the alphabet as a map, your camper will navigate the diversity of the animal kingdom. The letters will guide them from Alligators to Zebras, and everything in between.
Full-Week Cost: $300
4-Day Week Cost: $240
9:00 a.m.-1:45 p.m.
June 8-12
June 22-26
July 7-10 (4-day week)
July 20-24
August 3-7 Sold Out
Ages 10-12 Camp
For Ages 10-12:
Who works at the Zoo? Is it just zookeepers? Explore the various people and positions required to run a zoo and meet some of the faces around the world that the Zoo works with to promote animal conservation in the wild.
Additional Opportunities: This camp includes meeting 2-3 staff members working in a variety of fields such as horticulture, marketing/PR, international wildlife conservation, and more.
Full-Week Cost: $500
4-Day Week Cost: $400
9:00 a.m.-3:45 p.m.
June 15-19
June 29- July 2 (4-day week)
July 13-17
August 10-13 (4-day week)
For Ages 10-12:
Who works at the Zoo? Is it just zookeepers? Explore the various people and positions required to run a zoo and meet some of the faces around the world that the Zoo works with to promote animal conservation in the wild.
Additional Opportunities: This camp includes meeting 2-3 staff members working in a variety of fields such as horticulture, marketing/PR, international wildlife conservation, and more. This camp also includes an overnight experience. Campers will spend the night at the Zoo on the Thursday night of the camp. We provide Thursday dinner, and breakfast and lunch on Friday.
Full-Week Cost: $550
9:00 a.m.-3:45 p.m. with a single overnight 4:15 p.m.-7:30 a.m. (overnight portion)
For Ages 10-12:
Zookeepers have a unique connection to the animals they care for. Through this activity driven week, forge your own connections with our animal residents as you explore what it takes to build a bond between a zookeeper and their charges. Work as a team to create a solution to a real challenge posed by one of our animal care team members.
Additional Opportunities: This camp includes 2-3 special animal training demonstrations just for campers in this topic.
Full-Week Cost: $500
4-Day Week Cost: $400
9:00 a.m.-3:45 p.m.
June 8-12
June 22-26
July 7-10 (4-day week)
July 20-24
August 3-7
Ages 10-14 Camp
For Ages 10-14:
Has your camper dreamed of encountering the Houston Zoo animals and staff up-close and personal? In this immersive camp, your camper will visit a behind-the-scenes animal section every day. Campers will also get a tour of the Houston Zoo backlot and visit the departments that make the Zoo run. Animal experiences will vary based on animal and staff availability, but could include visiting hoofed mammals, reptiles, ambassador animals, sea lions, birds, and more. Backlot areas may include animal nutrition, horticulture, theming workshop, recycling center, and more.
Please note: Not every encounter involves touching or feeding.
Full-Week Cost: $1,000
9:00 a.m.-3:45 p.m.
June 1-5
June 8-12
June 15-19
June 22-26
July 13-17 Sold Out
July 20-24
July 27-31
For Ages 10-14:
Do you have an aspiring vet in the family? This camp will explore all the responsibilities of our veterinary team, including their work to save animals around the world.  Campers will explore the education, internships and experience that goes into becoming a veterinarian. Camp includes a tour of our vet clinic and activities designed to simulate vet care.  
Please note: Campers will not assist with veterinary care of Zoo animals and may or may not be able to observe care being given.
4-Day Week Cost: $750
9:00 a.m.-3:45 p.m.
June 29-July 2 (4-day week)
July 7-10 (4-day week)
Important Information
Camp communication is sent via email. 
Check your email for a receipt! Please be sure you are receiving email from Camp Zoofari by checking your SPAM settings in your email. If registering for someone else, be sure to forward them all emails. Camp Zoofari communicates up to the start of camp via email. If you do not receive a receipt via email, please contact our office at education@houstonzoo.org to ensure you receive communications. If you have opted out of communication from Houston Zoo in the past, please contact us to be added back to the communications software.
Camp Zoofari operates under a single skill exemption from the Texas Department of Health and Human Services.
Frequently Asked Questions
Are there scholarship opportunities?
Yes, scholarships are available for Camp Zoofari. Information about Camp Scholarships:
Scholarships will be offered to campers ages 8-12 only.
Scholarships could be offered for any date. Dates will be assigned based on camp availability. We ask that families remain flexible with their schedules and make every effort to attend assigned dates. Rescheduling an offer is limited and not always possible.
Before Camp Programming is included with the scholarship. This additional time extends the camp day hours so campers can be dropped off as early as 7:30.
Upon notification of acceptance into the scholarship program, you must register your camper online within 2 weeks. A non-refundable payment of $35 per camper is required to hold your space. This is the only fee associated with a camp scholarship.
Scholarships are not available for All Access Camp or Vet Camp.
Applications open February 3 and will close on March 9. To apply, please fill out the appropriate form below. Please note that all public scholarship applications require a teacher recommendation to be considered.
Notifications will be sent via email beginning on March 18. If additional spaces are not claimed, secondary offers will be made on April 1. All communication regarding scholarships will be sent via email. Please contact us at education@houstonzoo.org with any questions.
What are the camp hours?
Gate 8 camp entrance opens and closes promptly at the hours below in order to begin the camp day. Our staff are not able to "hold the gate" for late arrivals.
Before camp is not a drop-off daycare style program. We conduct on-grounds activities with the early/late campers, so Gate 8 will not be staffed outside these hours. Campers not picked up by 4:15 pm will be charged $1 per minute on the first late day, $10 per minute on the second day and the camper will not be allowed to return if they are picked up late twice in one week.
Full-Day Camp Hours
7:30-7:45 a.m. Before Camp Programming
8:45-9:15 a.m. Camp Registration
1:45-2:00 p.m. 4-year-old Camp Pick Up
3:45-4:15 p.m. 5+ Camp Pick Up
Arriving Late? Need to Leave Early?
Gate 8 will only be open the hours above. If you are arriving to pick up or drop off your child outside of these times, use the Zoo's main entrance. Once inside the Zoo, you must check your child in or out with staff in the Brown Education Center (BEC) office.
Where do I go when I arrive?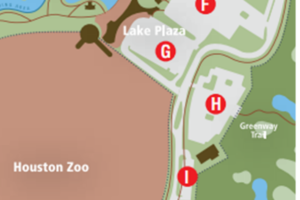 The City of Houston does not open the entrance to the Lot G (parking lot closest to Gate 8) until 9:00 a.m. If arriving before 9 a.m., use the entrance by Miller Outdoor Theater at the back of the parking lot (Lot E). Once in the parking lot, park anywhere in lots E, F or G and enter Camp at Gate 8. Gate 8 is only opened at scheduled times listed above. Parking Lot H will be unavailable for camper drop-off each morning.
Where should I park?
Please visit our Parking page for up-to-date information on parking around the Zoo. Lots E, F, G, and I are all open to the public to park.
The free parking lots around Houston Zoo are owned and managed by the City of Houston Parks and Recreation Department and have no affiliation with Houston Zoo. They are intended for use of guests visiting Hermann Park, Miller Outdoor Theater, Centennial Gardens, Houston Zoo, and the other museums in the area.
We understand parking can be difficult, especially in the afternoon. We are unable to offer a carpool lane as emergency vehicles must have access to the Zoo. We cannot block the road and driveway leading into the Zoo. Because the lot is owned and managed by the City of Houston, we are unable to block or reserve any part of the parking lot for camp participants.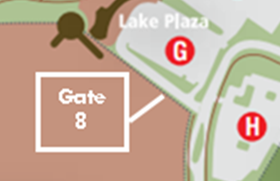 Please do not park in the handicapped spaces or loading zones along the curb outside Gate 8 (red box to right) unless you have a permit, as you may be ticketed or towed. Please do not park there, even if you see others parking in these zones.
City of Houston Parking Enforcement and Houston Police routinely patrol the area and write tickets to camp parents parking in these spaces when they begin blocking access to the street and driveway to emergency vehicles. Houston Zoo is not responsible for fines received.
Is there a waitlist?
The waitlist is not the same as registration. The waitlist ensures that you will receive an email should any camp spaces become available in the desired age range and date marked. In 2019, we were only able to open 15 waitlist spots, so we recommend looking at alternate topics or weeks to confirm registration.
To join a waitlist, click on the link (available once camp registration opens) and provide your name, email, and the date, camper age and topic you are interested in.
At the time of an opening, all guests listed will receive an email and spaces will be sold as first come, first served. Camp spaces are not confirmed until payment has been made and a receipt has been received.  Please check your email regularly if you are interested in a waitlist spot.
All waitlists will be closed on April 15, 2020.
I want my camper to be with friends. What should I do?
Camp is designed to foster new friendships and is an important part of early childhood development. We limit requests to one camper to be paired with one other camper.  We are not able match up groups of 3 or more individuals. Requests for a chain of campers will not be honored (Camper A requests B, Camper B requests C, etc.). We also require that both families make the request to avoid situations where one party does not want campers paired up.
We strongly encourage you to consider not requesting that school friends be paired together. Campers registered for the theme in the same week, will be together for all large activities. Examples include: morning check in and afternoon check out, animal ambassador meets and greets, giraffe feeding, carousel rides, lunch and all themed games. Campers are only broken out in individual small groups based on their birth date for Zoo tours. This smaller group allows for a more personalized experience and ensures that each camper has more time at the animal exhibits.
To submit a friend request:
Requests must be submitted through this link. Emails will not be accepted. The link can be found here.
Request your camper to be paired with one other camper and provide that camper's full name.
Both capers must be registered for the same theme on the same week. You will be asked to provide your receipt number as confirmation of registration.
Both you and the other camper's family must complete the Friend Request Survey to ensure that both families want campers paired together.
Make your request by April 15, 2020.
What do I do if my child has allergies?
If your child has food allergies, please include this information when registering. We are not able to offer alternative snacks. You are welcome to provide a snack for your own child if allergies are a concern.
My child needs to take medication; how should I arrange for this?
The Houston Zoo does NOT administer medication to children, nor does it allow campers to self-medicate and does not permit medication (OTC or prescription) at camp with the exception of emergency medications (inhalers, epi-pens, etc.). Please consult a physician so medication can be administered outside of camp. To ensure a positive experience for all campers, it is imperative that you notify us of any special needs, medical conditions or sensitivity to sensory elements your child may have. We will accommodate these needs to the best of our ability.
What should I pack for meals?
Camp Zoofari is a high-energy program with several hours of walking around the Zoo, so campers should eat a hearty breakfast before arrival. We provide bagged snacks (pretzels, cookies or crackers) in the morning and afternoon. Water is also offered throughout the day at refillable water stations in the Zoo. We recommend bringing a reusable water bottle to keep your camper hydrated.
All campers must bring a lunch daily. Due to safety concerns, glass containers are prohibited. Juice boxes with straws are not allowed as the Zoo has eliminated them to help save sea turtles. Camp lunches are stored in an air-conditioned building until about 30 minutes before lunch when they are taken to the lunch tent. There is not a microwave available for use.
We know packing lunches can be challenging, here's recommendations from other parents and experienced staff on what's been successful for campers.
Recommended:
Sandwich or "Lunchable"
Whole fruit
Vegetables
Reusable containers
Water or Sport Drinks
Clear fruit juice
Cereal bars
String cheese
Not Recommended:
Yogurt and "Gogurt"
Milk
Difficult to open packages
Soda
Smoothies
Sushi
Mayonnaise-based salads
Thick fruit/vegetable juice
Not Allowed:
Glass containers
Food that requires heating or cooking
Food for other campers
Juice boxes with a plastic straw
Can I bring snacks for the group?
Due to dietary restrictions of participants, please do not bring snacks (such as cupcakes) for your child's class as we are unable to allow these to be shared with the group.
My camper is sensitive to transitions or elements like light, sound or smells. Is Camp Zoofari a good fit for my camper?
The answer really depends upon your camper. Camp Zoofari can be very overwhelming to some campers with these sensitivities, yet others do extremely well at camp. You know your camper best and what he or she may be able to safely and comfortably experience.
Camp takes place outdoors, in the Houston Zoo, for 4.5 hours each day. Camp groups do not have a dedicated classroom space. The spaces you see at check-in and check-out are only used for that purpose. There are indoor activities in a variety of buildings. The Zoo is a public space and can be crowded and/or loud. Additionally, our proximity to the Medical Center means sirens and helicopters can routinely be heard inside the Zoo. Live animals and food vendors produce a variety of smells. Campers must be able to use public restrooms, which have electric hand-driers, without assistance. Campers complete multiple transitions each day as they move between exhibits and buildings. Each building may have different lighting based on the needs of the animals in those spaces.
We do our best to prepare all campers by sharing the plan for the day with them each morning and announcing transitions before they occur.
If you have a question or concern, please call our office at 713-533-6739 before registering. We are unable to offer refunds for campers who leave camp early because the sensory elements or transitions are too much for them to handle.
What does my camper do all day?
See what your campers will discover each day on our Family Page. We also post camp photos in the week following camp. This page will be updated June 4, 2020 and then weekly after that. Visit our Family Page for more information.
May I enroll my child in a camp for an older age group?
Age requirements are not negotiable and are strictly enforced. While there are many educational opportunities, camp is largely a physical activity. Campers must fall within the specified age category on the first day of the camp session they are attending and we scale the physical activity by each age group's needs. We divide the campers by their birth date into smaller groups for Zoo tours and activities.
How are campers supervised?
Campers are supervised by 1 adult and one teen to every 6-10 campers, depending on their age.
Campers are supervised at all times and are escorted on restroom breaks. However, our staff are not allowed to enter the restroom stalls to assist campers and must remain outside of the bathroom of the opposite gender. All campers must be able to use a public restroom without assistance.
What should I bring/pack?
You must bring the following:
Camp shirt
Close-toes shoes
Reusable water bottle
Lunch
You may want to also bring:
Weather-appropriate gear like hats, coats, rain coats, sunglasses, etc.
Sunscreen or bug spray. Please apply before dropping off your camper. We are not able to apply.
Camera for older campers.
Can I bring a backpack?
Campers are only in the space parent's see for check-in and check-out. Camp takes place on Zoo Grounds and campers must be able to carry everything themselves. Cubbies are available for children to store items they don't want to carry in the Zoo. Please do not bring any personal electronics, such as tablets or gaming systems as these items could be lost. Houston Zoo is not responsible for any personal electronic devices brought to camp.
Does my child need to wear their camp shirt every day?
Yes, a camp T-shirt must be worn each day of Camp Zoofari. One shirt is included in the registration fee. You may purchase additional shirts for $10 apiece. Sizes are Youth XS (2-4), S (6-8), M (10-12), L (14-16), and Adult S, M, and L. If you are unsure of what size to order, please order a size larger to allow room for your camper to grow.
What do you do in the event of severe weather?
If Houston Zoo is open, Camp Zoofari is operating. To determine if camp is in session, please visit the Houston Zoo website. Any closings will be announced on the homepage of our website. Closings will also be communicated via the Houston Zoo Facebook page. Your family's safety is paramount, so please consider your own situation before driving to the Zoo.
What are the camp rules?
Listen and follow instructions
Participate in camp activities
Respect others
Respect property
Have fun!
Should a camper forget the camp rules, one of our Camp Guides will remind them of the camp rules. If the behavior continues, the camper will be removed for a break.  We will speak to the caregiver at pick-up about the behavior.  In the event improvement is not realized or in the event of serious behavior concerns, the camper shall be sent home for the remainder of the day. Camp Zoofari uses the Houston Independent School District Code of Student Conduct Levels III through V as a guideline for when to send a camper home.  A return to camp the following day will be at our discretion.  Refunds are not provided for campers sent home for failing to follow the rules.