Getting Ready for Camp Zoofari!
Camp Zoofari TV
We're bringing Camp Zoofari TV to you this summer. Tune in to My20-Houston on Wednesdays at 11:30 a.m. CST through the end of July! You'll get to explore the Zoo with Camp Supervisor Nick to learn all about our animals.
Can't tune in live? Click below to access each week's episode.
National Zoo Keeper Week!
Campers enjoyed celebrating Zoo Keepers for last week's National Zoo Keeper Appreciation Week. Look below to see some of our camper's submissions.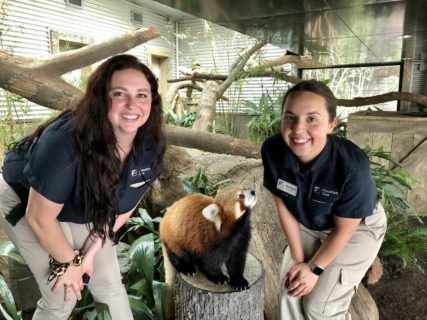 New to See and Do!
Every Monday, check back for virtual tours through the different areas of the Zoo! Previous videos can be found in the "Past Content" window.
This week, Ms. Leia takes us on a tour of the sea lions! And then she walks us through the mythical world of dragons.
Check back every Wednesday for updated activities! Previous week's activities can be found with the previous week's content.
This week, Kate shows a few different ways to beat the heat and cool off with water play! If you create any water art, send us a photo at education@houstonzoo.org
Today, Mr. Nick introduces us to a new friend! For other ambassador animals, visit the "Past Content" sections.
Check back every Friday for a variety of content, Camp Guide's choice. This week, we have another dance party!
In order to have virtual camp activities, we need to create some virtual campers! To make your camper, click the link below to find the template. You can decorate your camper any way that you wish. Do you want cheetah or jaguar spots? What about zebra stripes? Once you make your camper, either snap a picture and email our way, or send it through the mail. Every virtual camper we receive will have a series of Zoo adventures sent back. We cannot wait to see what adventures your virtual camper will go on!
Virtual Camper Adventures
Week 1: June 1-5  Stories Photo
Week 2: June 8-12 Stories Photos
Week 3: June 15-19 Stories Photos
Week 4: June 22-26 Stories Photos
Week 5: June 29 – July 3 Stories photos
Week 6: July 6-10 Stories Photos
Week 7: July 13-17 Stories Photos
Week 8: July 20-24 Stories Photos
One of the best things about camp is the chance to make new friends. Having a pen pal is a fun way to get to know someone and to learn more about things that make you curious. With this activity, you can become pen pals with a Zoo expert or your favorite Zoo animal! Do you have a favorite animal that you want to know more about? Do you want to learn what it takes to design toys for an specific animal? Do you want to know one of our Camp Guide's favorite foods? There are no wrong questions and none that are too silly. Simply write us an email or send us a letter, and we will reach back out! Who does not want to get mail from the Zoo?
Email address: Education@houstonzoo.org (subject: Pen Pals)
Address:
Attn: Camp Zoofari Team
Conservation Education, Houston Zoo
1513 Cambridge
Houston, TX 77030
Plastic Free July Resources
Plastic Free July 2020
This year, Camp Zoofari is participating in Plastic Free July, a global movement to raise awareness and help reduce plastic usage. We will be providing resources and ideas that you can use in your everyday life to reduce your plastic usage. Check this web page often for new ideas. We'll be updating it regularly. We will also have a Camp Zoofari Plastic Free July competition where campers can earn points for each of their plastic reduction behaviors.
*Remember, Plastic Free July is not about not using any plastic ever, it's about making at least one change in your behavior to reduce plastic usage to help protect our environment.
Plastic Free July Competition Rules
To get campers excited about Plastic Free July and encourage everyone to adopt some plastic reduction behaviors, this year we will have a Plastic Free July Camp Zoofari Competition. All campers are eligible to participate. The competition will run from July 1st-31st. Campers will earn points for certain plastic reduction behaviors as listed below and will earn bonus points for completing the weekly challenges as described below. At the end of the month of July the camp family with the most points will win a prize package.
Plastic Free July Challenge Points
1 point for joining the Plastic Free July challenge on their webpage: Plastic Free July Challenge

 (forward the confirmation email or send a screenshot to education@houstonzoo.org)

1 point for each plastic reduction action you have taken that you 

type out or describe 

in an email message 

 

2 points for each photo of a plastic reduction items or action

 that you have taken

3 points for each additional person you influence to reduce plastic (must send a photo, video, or have THEM email saying what action they've taken)

 

 

5 points for each video of you reducing plastic

 (either doing the action or describing and showing what you've done)

5 points for each social media (

I

nstagram, 

T

witter, 

T

ik

 T

ok, etc.) post you make about Plastic Free July and what you are doing to reduce plastics. Send us a link or a screenshot of your post.

Be sure to use the tags #plasticfreejuly and #houstonzoo

 

Bonus points can be earned if you complete the weekly challenges described below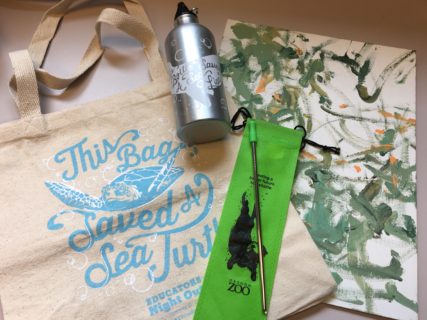 Plastic Reduction Weekly Challenge
Week 4 Challenge: Plastic Free Meal
To complete this challenge you must cook a full meal without using any plastic packaging. No ingredient can come in any plastic wrap, plastic packaging, plastic bottles, etc. You also must make sure you do not bring ingredients home in any plastic bags. To earn points send us a photo of all your ingredients before as well as a photos of your completed meal.
If you complete this challenge you'll earn an extra 15 points!
Week 4 Challenge will be good July 25th – July 31st.
Plastic Reduction Idea of the Day
Make your own Popsicles
On these hot summer days I bet a lot of you are craving a cool frozen treat. A popsicle maybe? Unfortunately, those store bought popsicles are usually wrapped in a plastic film. Not to worry…you can make your own! There are lots of recipes online. You don't need a bunch of fancy supplies either. You can simply make popsicles using wooden popsicle sticks and a loaf pan. Check out this simple recipe by clicking the picture below:
Plastic Reduction Resource Guide– Created by Hoofstock keeper John and Natural Encounters keeper Sydney. All of the ideas in this resource are meant to be ideas. Trying to adopt all of these behaviors is a big change. The goal of Plastic Free July is not to completely change everything, but to take a few small steps to help change our plastic usage. Remember, every little act adds up!
Michelle from the Children's Zoo shows us how her team is helping to save animals by participating in Plastic Free July.
Camp Zoofari Feedback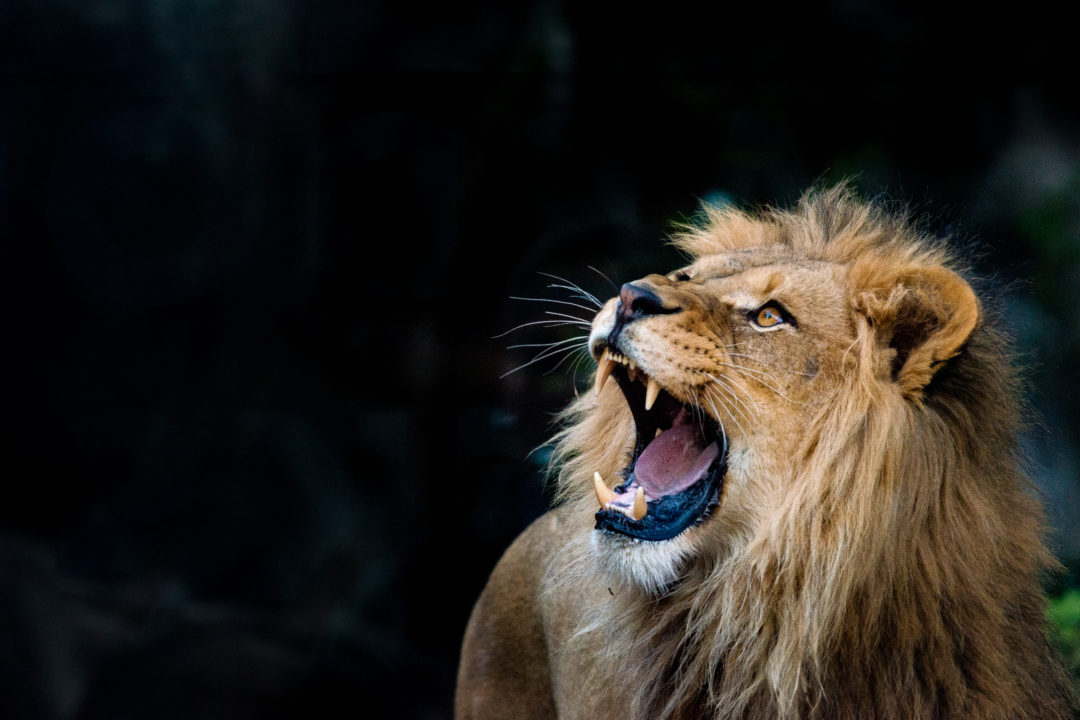 Help us gather feedback about the Camp Zoofari experience. We will be changing the following question throughout the summer.