Zoo News Blog
Zoo staff assist partners at NOAA with sea turtle surveys
As part of our efforts to save sea turtles in the wild, Houston Zoo staff have the opportunity to participate in weekly beach surveys conducted by the National Marine Fisheries Service-National Oceanic and Atmospheric Administration (NOAA) in Galveston. NOAA biologists conduct weekly beach surveys to look for dead, stranded, injured, or nesting sea turtles, respond to reports from the 1-866-TURTLE-5 hotline, and collect fishing line from the Surfside Jetty. Below is a summary of one Houston Zoo employees' experience, Brenda Rico, part of our Call Center team. 
My experience out with Lyndsey [NOAA biologist] was great, really thankful for having an opportunity like that. On my survey experience I was able to see what the turtle hospital looks like and just how many of them they [NOAA] care for. I was able to assist Lyndsey in keeping records of the GPS coordinates in case we ran into a turtle that maybe needed rescue. I was also able to assist with recording data on a dead sea turtle we found over at Bolivar Peninsula. A really neat thing that I got to experience was witnessing two necropsies that she performed, to determine how these turtles died, what type of diet they had, and where they were consuming their food from. I learned that turtles can easily drown with fishing line that fishermen might accidentally leave behind, they can grow to be up to 1,000 lbs and they don't develop fully until adulthood that's when you are able to identify their sex. We probably went down the beach roughly around 70 miles and at the end of the survey we got to rescue a pelican!
During this sea turtle survey, Brenda also had the chance to release a Kemp's ridley sea turtle that had been rehabilitated by NOAA.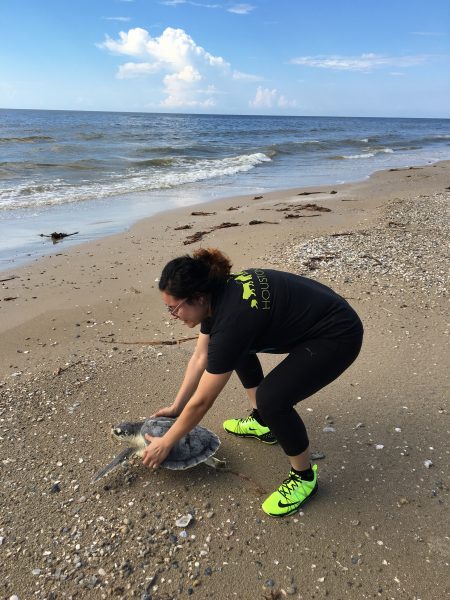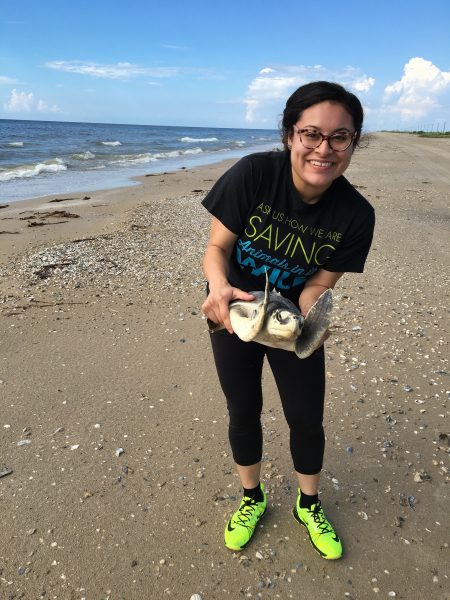 You can help save sea turtles by ensuring your fishing line always ends up in a proper recycling bin. Discarded fishing line can entangle sea turtles, making it difficult for them to swim, find food, and come up for air. You can also help by reporting any sea turtles in our area by calling 1-866-TURTLE-5.